New Jandy Pro Series LED Lights Feature HydroCool Technology
Press Release Summary: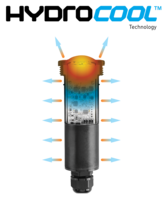 The Jandy Pro Series WaterColors Nicheless LED Lights are offered in 4.6 in. (6 W) or 5.5 (12 and 24 W) lengths. The units feature triple-material, unibody construction that eliminates leakage issues. They are available in standard black with complementary gray and white cosmetic trim rings. The HydroCool™ technology allows the transfer of heat from the front and sides of the light out into the water. The micheless LED lights can be used as infinity edges, grottos and gap edges.
---
Original Press Release:
Jandy® Pro Series Launches Innovative New LED Pool Lights
The durable Jandy WaterColors Nicheless LED Lights feature NEW HydroCool™ technology
SAN DIEGO, Sept. 25, 2018 /PRNewswire/ -- Jandy, a leading manufacturer of innovative pool equipment, is raising the bar when it comes to pool lighting performance with the launch of its state-of-the-art Jandy Pro Series WaterColors Nicheless LED lights introducing new HydroCool™ technology. 
Designed with an innovative aluminum body that's over-molded with thermally conductive plastic, cutting-edge HydroCool technology enables heat to transfer both from the front and the sides of the light out into the water, resulting in lights that run cooler and last longer (based on internal testing).
Built for durability and dependability, these new nicheless lights feature a triple-material, unibody construction that virtually eliminates common leakage issues, and a diffuser lens that provides better blending of light for superior performance with bright and balanced lighting — resulting in a more even glow for pool owners to enjoy.
HydroCool lights achieve a powerful combination of energy efficiency and brilliant illumination using less wattage than previous generations of LED lights and are up to eight inches shorter than previous models. Available in 6-, 12-, and 24-watt models, these lights are only 4.6" (6 watt) or 5.5" (12 and 24 watt) long, — making them ideal for lighting creative design elements like infinity edges, grottos, gap edges and more.
"Pool lighting is an essential component of the modern pool ownership experience," said Graham Orme, Product & Custom Design Manager for Lighting and aesthetic equipment. "Whether a builder focuses on simple symmetrical designs or custom freeform creation, complete with fire and water features, they want high-performance lights that are energy-efficient and durable. With the introduction of our innovative HydroCool technology, we've created LEDs that set a new standard for pool lighting."
Able to provide unparalleled performance and design flexibility, Jandy's new nicheless LEDs also allow pool owners to set the mood with nine vibrant colors, and five color-changing light shows. They can also opt for a white light only design with two white light color options — Warm White or Daylight. Daylight White (5000K) offers bright sunlight illumination, while Warm White (2700K) provides a soothing incandescent-like lighting that highlights design features and meets Dark Sky Community requirements. Both white light options are also dimmer-compatible to further establish ambiance.
Jandy Pro Series WaterColors Nicheless LED lights come standard in black with complimentary gray and white cosmetic trim rings to coordinate with a wide variety of pool surfaces. Builders can be sure they're eliminating all reflective shadows by using optional quarter- and half-moon lens cover accessories.
Jandy Pro Series WaterColors Nicheless LED lights with HydroCool technology will be available beginning early October, 2018. For more information and to order, pool professionals can contact their Jandy representative, visit www.jandy.com, or call (800) 822-7933.
About Zodiac Pool Systems 
Zodiac Pool Systems LLC, a Fluidra company, is a global manufacturer of residential pool equipment and connected pool solutions. The company has a rich heritage of innovation excellence dating back more than 100 years and markets its product lines under the leading brand names of Zodiac®, Polaris®, Jandy® Pro Series, Nature2®, Caretaker™, Grand Effects®, and Cover-Pools®. To learn more about Zodiac, please visit www.zodiac.com or call 800-822-7933.
CONTACT: Chancelor Shay, cshay@wrightoncomm.com, 858-886-7900 ext. 5 Web Site: http://www.jandy.com
More from Computer Hardware & Peripherals