New IXXAT ACT 5 Automotive Configuration Tool Features Signal Manipulation Functions
Press Release Summary: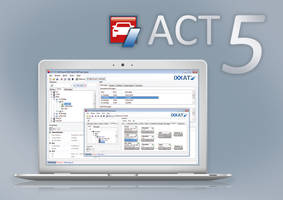 IXXAT ACT 5 Automotive Configuration Tool is offered in Lite (Matlab/Simulink and EtherCAT support) and standard (full functionality) versions. The tool is designed for testing automotive bus systems and devices for applications such as Residual Bus Simulation and gateways. Version 5 tool provides support for Fibex 3.x, 4.x and AutosarXML. The new version allows user to implement specific functions using C user code elements and supports generic Ethernet interface.
---
Original Press Release:
IXXAT ACT 5 – a Powerful Tool for Automotive Testing in Vehicles and Test Benches
HMS Industrial Networks now introduces version 5 of the IXXAT® Automotive Configuration Tool (ACT) for the IXXAT FRC platform, targeting automotive testing applications. 
Together with the IXXAT hardware platforms FRC-EP 190 and FRC-EP 170, the new version 5 of IXXAT Automotive Configuration Tool form a sophisticated solution for testing automotive bus systems and devices. Logging and visualization are supported, and complex Residual Bus Simulation (RBS) and gateway applications using Matlab/Simulink can be achieved. User specific code can also be easily implemented. On the hardware-side, the FRC-EP's include a stand-alone, high-performance microcontroller system and a variety of interfaces for CAN, CAN FD, FlexRay, LIN, EtherCAT, and Automotive Ethernet.
New freeware version of ACT
In addition to the data logger functionality, CAN/CAN FD gateways can now be implemented with the new freeware version and powerful functions for data visualization on HTML5-capable devices (tablet, smartphone) are available. Furthermore, customer specific functions can be implemented using C user code elements and the generic Ethernet interface of the hardware platforms is supported. A Generic Ethernet protocol interface enables e.g. transmission of CAN data via Ethernet, which for example can be used to link automotive test benches with cloud-based simulation environments. To use the freeware version, users need one of the two FRC hardware platforms. This enables customers to set up a low-cost and high-performance test system that already has a wide range of functions.
Extended functionality offered in the Lite and Standard versions of ACT
Besides the freeware version, the ACT tool is offered in a Lite version with Matlab/Simulink and EtherCAT support, and in a Standard version with full functionality. The standard version includes a powerful RBS functionality which provides an easy-to-configure simulation environment for testing of single or multiple ECUs independent of other network participants. In addition, extensive functions for signal manipulation via e.g. XCPonEthernet are included. Version 5 also supports Fibex 3.x, 4.x and AutosarXML and has full PDU support. Signal manipulation is now possible on all connected bus systems and is no longer limited to buses under the control of the RBS.
For more information about the ACT feature set and supported interfaces visit the IXXAT website: http://www.ixxat.com/automotive
HMS Industrial Networks
HMS Industrial Networks is the leading independent supplier of products for industrial communication including remote management. HMS develops and manufactures solutions for connecting automation devices and systems to industrial networks under the Anybus, IXXAT and eWON brands.
Development and manufacturing take place at the headquarters in Halmstad, Sweden and in Ravensburg, Germany. Local sales and support are handled by offices in Belgium, China, Denmark, France, Germany, India, Italy, Japan, UK, and USA. HMS employs over 500 people and reported sales of 101 million EUR in 2016. HMS is listed on the NASDAQ OMX in Stockholm.
HMS Industrial Networks Inc.
120 Bedford Center Road, Ste 102
Bedford, NH 03110
USA
Phone: 1-603-471-0800
Fax: +1-603-471-0800 ext. 101
sales@ixxat.com
HMS Industrial Networks
Stationsgatan 37
30245 Halmstad
Sweden
www.anybus.com
Michela NALIN
Phone: +46 351729 93
Fax: +46 351729 09
min@hms.se
More from Architectural & Civil Engineering Products