Data and Database Management Software
New ITTIA Database Software Offers Data Acquisition and Edge Connectivity
Press Release Summary: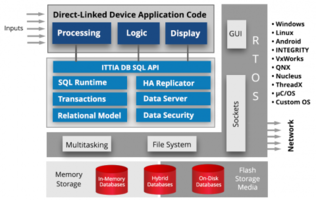 Supports i.MX 8 Series and Layerscape® LS1046A processors NXP semiconductors
Ideal for multimedia and display applications and offer scalability, high performance, and low-power capabilities
Features includes single-, dual-, and quad-core families based on the Arm® Cortex® architecture
---
Original Press Release:
ITTIA Database Now Supports NXP's Latest 64-bit Arm Processors with Real-Time Functionality
September 23, 2019 — Bellevue, WA — Device data management is critical to success when creating high performance, intelligent embedded systems. Data processing, analysis, security and distribution will play an important role in architecting Internet of Things (IoT) systems, where applications must stream and manage a large quantity of real time data. In a continuous effort to accelerate application development and data management activities, ITTIA announces support for two important platforms from NXP Semiconductors: i.MX 8 Series and Layerscape® LS1046A Processors. Ranging from single- to multi-core, these Arm-based solutions for multimedia and display applications offer scalability, high performance, and low-power capabilities.
As data and connected hardware devices are the most important part of IoT, a powerful architectural design for devices to store, manage and distribute data requires well-integrated database software and hardware. The combination of ITTIA DB SQL and i.MX8/LS1046A devices provides a solid, easy to use, standard platform for developers to innovate. The key characteristics for IoT device data management and analysis are: data acquisition, processing, storage, and edge connectivity.
The i.MX 8 series of applications processors is a feature- and performance-scalable multicore platform that includes single-, dual-, and quad-core families based on the Arm® Cortex® architecture. The QorIQ® LS1046A processor integrates four 64-bit Arm® Cortex®-A72 cores with packet processing acceleration and high-speed networking.
This integration of ITTIA DB SQL with the i.MX8 based Apalis SoM from Toradex (featuring Torizon, its easy-to-use Industrial Linux platform), and LS1046A provides a platform for manufacturers of intelligent devices to locally store, manage and distribute a large volume of sensor data on edge network devices. They will also benefit from distributed computing to make information integrated and available to other neighboring embedded systems.
ITTIA and NXP also promote a joint webinar on Wednesday, September 25, 2019, offering developers an opportunity to see a live demonstration, with real code samples, where i.MX8 and LS1046 devices store, process and automatically exchange information, in real time.
https://attendee.gotowebinar.com/rt/7794424036987329539?source=ITTIA
Sasan Montaseri, ITTIA President, said, "ITTIA worked closely with two important joint NXP partners to support these two modern platforms: Toradex and TQ Systems GmbH who, with their state-of-the-art hardware, make ITTIA DB SQL an ideal database solution for i.MX8 and LS1046 processors. TQ and Toradex solutions are based on NXP Semiconductors processors. Toradex provides Computer and System on Module hardware for application-ready and compact embedded computing platforms. TQ System GmbH provides the latest processor technology, in the form of embedded modules solution and finished systems."
About ITTIA
ITTIA offers database software for platforms where limited memory, storage, and processing power makes software development challenging. ITTIA develops fast, high performance database products and tools with the goal of providing excellent data management software for embedded systems and IoT devices. ITTIA products are designed to be suitable for mission critical application development and deployment at significantly reduced cost. ITTIA customers include Fresenius Medical Devices, Puget Sound Energy, GlaxoSmithKline, Moodys, Sandia National Laboratory, Servomex and many others.
More from Construction Equipment and Supplies