New Isolated Quad Serial RS232 Communication Modules Protect Signals from Noise and Transient Voltage Spikes
Press Release Summary: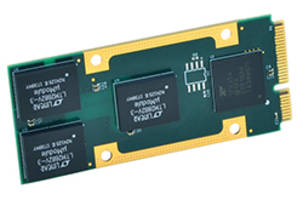 Each port has 250V of isolation from digital circuitry and100V of isolation from the other 3 ports
Provides four independent isolated RS232 serial ports on a compact 30 x 70mm board
Deliver a SWaP-optimized solution for military, aerospace, and industrial systems performing data collection, control, test, and simulation functions
---
Original Press Release:
Acromag Releases New Isolated Quad RS232 Serial Communication Modules in Ruggedized Mini PCIe Form Factor
New AcroPack® Mini PCIe-based serial I/O modules provide four independently isolated RS232 ports to protect signals from noise and transient voltage spikes in defense and industrial applications.
Wixom, MI – June 19, 2019 - Acromag continues to expand their offering of AcroPack rugged I/O modules based on the PCI Express mini card (mPCIe) standard with a new isolated RS232 communication module. The AP513 module provides four individually isolated RS232 serial ports on a compact 30 x 70mm board. Each port is isolated to 250V from digital circuitry and 100V from the other 3 ports. The isolation protects equipment and signal integrity in electrically noisy environments with potential for high common model voltages, harmful transient signals, and ground loops. Designed for COTS applications, these mPCIe mezzanine modules deliver a SWaP-optimized solution for military, aerospace, and industrial systems performing data collection, control, test, and simulation functions. A variety of carrier cards are available to host a mix of up to four AcroPack I/O modules on PCI Express, VPX, CompactPCI-Serial, or other small form factor computer platforms.
A number of advanced features simplify configuration and improve performance. Software-configuration helps you quickly set baud rates, character-sizes, stop bits, and parity. For more efficient data processing, each serial port is equipped with large 256-byte FIFO buffers on the transmit and receive lines to minimize CPU interaction. Programmable triggers, extensive handshake support, interrupt controls, and a 16550-compatible UART provide additional flexibility.
"Development of this isolated quad RS232 module is an example of how we continue to add new I/O capabilities in response to customer requirements," noted Robert Greenfield, Acromag's Business Development Manager. "The AcroPacks are ideal for high-density computing systems requiring a mix of I/O signal interfaces, and we are dedicated to help solve those ever-evolving application challenges."
AcroPack mezzanine modules improve on the mini PCI Express architecture by adding a down-facing 100-pin connector that securely routes the I/O through a carrier card without any loose internal cabling. Carrier cards for rack-mount, field-deployable, industrial chassis, desktop, and small mezzanine computing platforms let you combine up to four I/O function modules on a single computer board. More than 25 models are available for data acquisition, signal processing, test & measurement, command/control, and network communication applications. Software tools support embedded applications running on Linux®, Windows®, or VxWorks® operating systems.
About Acromag
Founded in 1957, Acromag, Inc. designs and manufactures high-tech industrial electronics. They are an international corporation headquartered near Detroit, Michigan with a global network of sales representatives and distributors. Acromag offers a complete line of embedded computing and I/O solutions including general purpose I/O boards, single-board computers, FPGA modules, embedded computers, COM Express products, mezzanine modules, wiring accessories, and software. Industries served include military, aerospace, manufacturing, transportation, utilities, and scientific research laboratories.
For more information about Acromag products, call Inside Sales at (248) 295-0310 or Marketing Communications at (248) 295-0866. The website is www.acromag.com.
Contact This Company Download Spec Sheet
More from Controls & Controllers