New iSCSI Video Storage Arrays from Bosch Designed for Maximum Protection of Recorded Video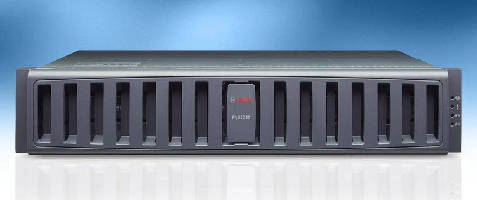 Highest reliability and scalability for even the most demanding video surveillance applications


RAID-DP technology for uninterrupted system reliability in the event of double-disk failures.

Scalable and easy-to-manage network video solution for storage up to 96 TB

Bosch Security Systems announces the release of the DSA-N2B40 iSCSI Video Storage Array Series, offering maximum reliability and scalability for even the most demanding video surveillance applications. The DSA Series is the second generation of Bosch Video Storage Arrays engineered as part of the company's global partnership with NetApp.

The DSA-N2B40 assures maximum protection of recorded video with RAID-4 or RAID-DP technology. RAID-DP technology delivers uninterrupted system reliability even in the event of double-disk failures. Redundant hot-swappable power supplies and cooling fans provide additional safeguards from disk malfunctions. The system also features real-time health reporting and advanced warning of potential issues.

Designed as a scalable and easy-to-manage network solution, it enables users to easily add capacity when more storage is required - up to 96 TB. One base unit can be connected to up to six disk shelf expansion units to form a storage stack. Each stack is a single system to monitor and manage, requiring only one IP address.

Offering a lower cost-of-ownership than RAID-5 storage solutions, the high performance DSA-N2B40 Series features four gigabit Ethernet ports that enable up to 256 concurrent high-speed iSCSI connections. Like all Bosch/NetApp disk arrays, the DSA-N2B40 Series is fully integrated with the Bosch Video Recording Manager 2.0 software for faster setup. The Video Storage Arrays are also compatible with the Bosch Video Management System 2.x.

The DSA-N2B40 Series of iSCSI Video Storage arrays is part of Bosch's extensive professional CCTV recording and management portfolio, which ranges from very straightforward 4-channel CCTV recorders, through hybrid surveillance systems, to high level Video Storage arrays for the most demanding CCTV applications.

Contact person for press inquiries:

Bosch Security Systems

Erika Görge

P.O. Box 11 11

D-85626 Grasbrunn

Germany

Phone: +49 89 6290-1647

Fax: +49 89 6290-281647

E-mail: erika.goerge@de.bosch.com

www.boschsecurity.com

The Bosch Group is a leading global supplier of technology and services. According to preliminary figures, some 270,000 associates generated sales of roughly 38 billion euros in the areas of automotive and industrial technology, consumer goods, and building technology in fiscal 2009. The Bosch Group comprises Robert Bosch GmbH and its more than 300 subsidiaries and regional companies in over 60 countries. If its sales and service partners are included, then Bosch is represented in roughly 150 countries. This worldwide development, manufacturing, and sales network is the foundation for further growth. Each year, Bosch spends more than 3.5 billion euros for research and development, and applies for over 3,000 patents worldwide. With all its products and services, Bosch enhances the quality of life by providing solutions which are both innovative and beneficial.

The company was set up in Stuttgart in 1886 by Robert Bosch (1861-1942) as "Workshop for Precision Mechanics and Electrical Engineering." The special ownership structure of Robert Bosch GmbH guarantees the entrepreneurial freedom of the Bosch Group, making it possible for the company to plan over the long term and to undertake significant up-front investments in the safeguarding of its future. Ninety-two percent of the share capital of Robert Bosch GmbH is held by Robert Bosch Stiftung GmbH, a charitable foundation. The majority of voting rights are held by Robert Bosch Industrietreuhand KG, an industrial trust. The entrepreneurial ownership functions are carried out by the trust. The remaining shares are held by the Bosch family and by Robert Bosch GmbH.

Additional information can be accessed at www.bosch.com.

Related