New ISAG Wide Format Laser Photo Printer and XY-Cutter for XXL Formats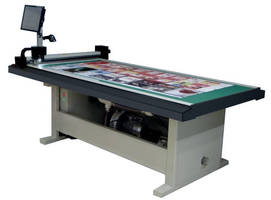 Fast and Cost-effectively XXL Poster, Book Cover and Photo Production



Swiss manufacturer Imaging Solutions AG (ISAG) launches two new solutions for the finishing of large format posters, images or book covers in genuine photo quality. The new laser printer proPrint 30SHS with integrated photo paper development and the new photoCut XY flatbed cut-ter with automatic nesting software process large format photo products quick, precise and eco-nomical.



proPrint 30SHS - The Fast Solution for Exceptional Photo Quality Prints

The new proPrint 30SHS printer is a photo laser lab system for printing stunning images in genuine photo quality. This laser printer is the ideal solution for high quality book cover prints, posters or large panorama pictures up to a size of 30 inches, as well as for XXL photo books.



Book covers with a size of 30 x 45 or 30 x 30 centimeters could easily be manufactured with the proPrint 30SHS laser lab. The printing system is fitted with an integrated nesting software for optimized paper usage. Additionaly, this wide-format printer provides a multiple image production-master for an increase of productivity.



The proPrint 30SHS laser printer processes photo paper from roll to sheet with a maximum width of 30 inches and a maximum length of more than 100 inches. As an option, this laser lab could be upgraded to process unlimited paper lengths.



Repeatable precision and uniform exposure quality as well as the overall color-management for precise color reproduction in genuine photo quality, are only few among the many benefits of the new proPrint 30SHS.



The linear writing high speed mode provides striking 60 inches per minute. With this performance, the proPrint 30SHS is one of the fastest printers in its class. Cycle times could be sharply reduced, when manufacturing print-on-demand products with proPrint 30SHS.



Cost-effective Alternative to Inkjet Production

Regarding the economic aspects of printing with this photo laser lab system, proPrint 30SHS provides an extraordinary product quality, innovative technology, low maintenance costs and high reliability.



The proPrint 30SHS printer is an exceptionally cost-effective alternative in comparison to expen-sive inkjet production, particularly with regard to the printing quality, the material costs and the speed. Providing an output of 68 square meters per hour, this wide format laser printer is able to substitute up to 10 inkjet printers.



photoCut XY - Precision cut quality of wide-format photo products

 Imaging Solutions' new flatbed cutter photoCut XY cuts various formats fast, precisely and flexi-ble, up to a length of 70 inches and a width of 30 inches.



The photoCut XY flatbed cutter runs with an automatic image nesting software for optimized material usage. Delivering exceptional productivity fully automatically, this easy to handle cutting system safes time and effort when cutting multi-up printed sheets into big posters, banners, large book pages or other print-on-demand photo products.



Bar code control and cutter alignment for perfect cuttings

The photoCut XY is equipped with a bar code control that scans the code on the print, provided by the proPrint 30SHS laser printer. The cutter identifies the position of the print and cuts it precisely according to the cutting mark. An automatically cutter alignment ensures the correct position of the knife, in case the material is not placed exactly on the cutting table. This optimized cutting technology reduces rejects and safes valuable time and production costs.



The photoCut XY flatbed cutter processes almost every type of photo paper. This cutting system is very user-friendly and needs only a minimum of personnel employment, thus making the cutter even more cost-efficient.



Imaging Solutions offers with both, photoCut XY cutter and proPrint 30SHS printer, an ideal minilab solution for the fast and high quality finishing of premium photo products.



Worldwide service support of Swiss experts

Imaging Solutions supplies a worldwide installation, maintenance and training support for the new cutter and printer, as well as for all other ISAG systems, by Swiss professionals.



The ISAG-team offers live-demonstrations of the new solutions at the demo lab in Regensdorf. Please contact ISAG here for an appointment.



For detailed product information, please visit www.imagingsolutions.ch.



About Imaging Solutions AG

Imaging Solutions AG (ISAG) is a medium-sized Swiss company based in Regensdorf near Zurich. ISAG has been founded in 2003 and specializes in modular systems for the production of LayFlat photobooks and other premium on-demand imaging products.



Imaging Solutions' automatic workflow systems allow the high-quality print finishing of books, calendars, postcards, and posters in edition 1 and short runs. ISAG also offers the ideal solution for the automatic mounting of printed canvases.