New IRG5000 LTE Routers are ISO 7637-2 and ISO 16750-2 Compliant
Press Release Summary: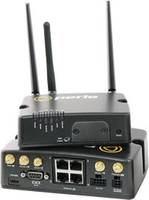 Designed to operate on limited power sources by consuming less than 1 Watt in idle mode and 53 mW in standby mode
Operating temperature ranges from -40°F to 158°F ( -40°C to 70°C ) and comes in rugged die-cast aluminum IP54 enclosures
Ideal for Vehicle Area Networks (VANs) applications in public transportation, fleet management, and field personnel
---
Original Press Release:
Perle Launches IRG5000 LTE Routers for Vehicle Area Networks
IRG5000 LTE Routers have been developed specifically for "on the move" applications in public transportation, fleet management, and field personnel.
NASHVILLE, Tenn. (Feb. 12, 2020) Perle Systems, a global provider of advanced device networking hardware, has released a line of IRG5000 LTE Routers purpose-built for Vehicle Area Networks (VANs). Certified for operation on 33 LTE bands internationally, and speeds up to 600Mbps downlink and 150Mbps uplink, Perle IRG5000 LTE Routers solve connectivity challenges for assets that are on-the-move.
Mobile workers in vehicles, or at temporary work sites, need access to the tools available in the office. At the same time, organizations with utility field personnel, courier delivery services, taxis, and public transportation operate more efficiently by knowing the location and status of their mobile assets.
With GPS and GNSS (Galileo, Glonass, and Beidou) included by default, an IRG5000 LTE Router serves as the main connectivity hub in creating a VAN. This enables real-time location tracking of remote assets. In addition, real-time network clock updates for the router, or any attached equipment, ensures accurate time-stamp usage in time-sensitive applications.
In-vehicle telemetry, sensors, surveillance cameras, ticketing, and other devices are connected to transmit data to the cloud or headquarters over LTE. In public transportation applications, like taxis, buses, streetcars, and trains, the WiFi can be used to provide free or paid internet access to customers. With the ability to establish and maintain cellular tower connectivity at up to 100 meters per second (360km/224mi per hour), the IRG5000 provides reliable LTE access in any moving vehicle application.
To save vehicle battery life, IRG5000 LTE Routers are designed to operate on limited power sources by consuming less than 1 Watt in idle mode and 53 mW in standby mode. And, Ignition Power Management can be used to schedule a delayed shutdown or start-up of the IRG5000 based on the vehicle ignition status to ensure all data is safely transmitted.
Perle IRG5000 LTE Routers come with Dual SIM slots to ensure reliable network connectivity and cellular multihoming support in LTE and HSPA-based networks. This is particularly useful when the IRG5000 needs to automatically switch over to a back-up data plan or carrier because the primary carrier contract data cap has been exceeded, there is a lack of coverage or carrier network failure, or long-distance roaming is enabled and used.
John Feeney, COO at Perle Systems comments, "An IRG500 LTE Router ticks all the boxes for in-vehicle networking. They are fully approved and certified with everything needed to solve the connectivity challenges that exist in mobile environments."
Rugged die-cast aluminum IP54 enclosures to protect against dust & water
Shock and vibration resistance certified to MIL-STD-810G, SAE J1455 & EN 61373
-40°F to 158°F ( -40°C to 70°C ) operating temperature
E-Mark Certification, ISO 7637-2, and ISO 16750-2 Compliance
With the most modern enterprise-level protocol routing support (RIP, OSPF, BGP-4, IPv4, IPv6, OpenVPN, IPSec VPN, and DHCP), integrated zone-based policy firewall, 2 Factor Authentication, and remote authentication (RADIUS, TACACS+) management, IRG5000 LTE Routers will integrate seamlessly with enterprise-grade systems in hierarchical or large mesh network structures to control access to devices in the field and protect inside networks from unauthorized access.
Find out more about IRG5000 LTE Routers.
About Perle Systems www.perle.com 
Founded in 1976, Perle Systems designs and manufactures highly-reliable device networking, media conversion, and Internet of Things (IoT) connectivity hardware. With an extensive range of solutions, Perle products are ideal for organizations that need to establish network connectivity across multiple locations, securely transmit critical and sensitive information, or remotely monitor and control networked devices and appliances. Perle has offices in 9 countries and sells its products through a globally established distributor, system integrator, and reseller channel.
Contact: Agang Moeng, Tel: 905-946-5020, Email: pr@perle.com
Website: www.perle.com
More from Agricultural & Farming Products