New IPAK TF-330GH Agricultural Tray Former is Rated at Up to 40 Trays Per Minute
Press Release Summary: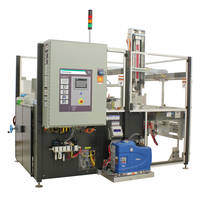 The IPAK TF-330GH Agricultural Tray Former comes with on-machine pictograph and single-stage side-load magazine. The unit is offered with an adjustable tooling system that allows flexibility for setting up new tray sizes. It features an advanced gluing system option that reduces adhesive consumption by up to 40 percent and a maintenance free lubrication for minimizing upkeep and increasing throughput.
---
Original Press Release:
Wexxar Bel Upgrades Its Flagship Agricultural Tray Former
The company revamped its top-of-the-line IPAK TF-330GH agricultural tray former for faster time to market, greater flexibility, and higher uptime.
RICHMOND, British Columbia., August 21, 2018 – Wexxar Bel, a product brand of ProMach, introduced today the latest refinements of its leading tray former, IPAK TF-330GH for the agricultural industry, which is rated at up to 40 trays per minute. Engineering advancements shorten the lead time for machine delivery, give customers greater operational flexibility, improve uptime, and equip agricultural customers with a ruggedly constructed machine that requires minimal maintenance.
A new adjustable tooling system creates a more universal tray former – a platform that allows agricultural packaging operations to overcome the issues associated with forming trays from different suppliers. Adjustable tooling also gives packaging operations the flexibility of setting up new tray sizes without the need of sending samples to the factory. Through mandrel and folder adjustment, the operation can quickly continue to produce trays when inconsistency of material arises. Adjustable tooling reduces tooling costs and provides greater flexibility for in-field set-up of new tray sizes. Changeover time averages 10 minutes.
Maintenance free lubrication reduces upkeep and improves uptime for greater throughput. The advanced gluing system option reduces adhesive consumption by up to 40 percent over earlier machines.
The IPAK TF-330GH is easily and safely operated by less technically trained personnel thanks to several features. For example, on-machine pictographs, rather than words, guide operators through the changeover process. A new option – the single-stage, side-load magazine – doubles the time between loading, freeing operators for other duties. Ergonomic design elements make it physically easier to load the magazine. Safety systems throughout the IPAK TF-330GH feature the latest technology.
See the upgraded IPAK TF-330GH; Wexxar case forming, erecting, and packing systems; and BEL case sealing systems at the Wexxar Bel Pack Expo Booth #3546.
About Wexxar Bel
Wexxar Bel is a leading manufacturer of high quality systems under its Wexxar case forming, erecting, and packing, BEL case sealing, and IPAK tray forming product lines. These product lines are designed and manufactured for the most demanding packaging environments. Wexxar Bel products yield the lowest cost of ownership through greater dependability, higher productivity, maximum throughput, and a high standard of safety. Wexxar Bel is headquartered in Richmond, British Columbia, Canada. For more information, visit www.wexxar.com. 
About ProMach
ProMach is a family of best-in-class packaging solution brands serving manufacturers of all sizes and geographies in the food, beverage, pharmaceutical, personal care, and household and industrial goods industries. ProMach brands operate across the entire packaging spectrum: filling and capping, flexibles, pharma, product handling, labeling and coding, and end of line. ProMach also provides Performance Services, including integrated solutions, design/build, engineering services, and productivity software to optimize packaging line design and deliver maximum uptime.
ProMach designs, manufactures, integrates, and supports the most sophisticated and advanced packaging solutions in the global marketplace. Its diverse customer base, from Fortune 500 companies to smaller, privately held businesses worldwide, depends on reliable, flexible, technologically advanced equipment and integrated solutions. ProMach is headquartered near Cincinnati, Ohio, with manufacturing facilities and offices throughout the United States, Canada, Mexico, Brazil, Europe, United Arab Emirates, and China. For more information about ProMach, visit www.ProMachBuilt.com.
Media Contact
John Eklund | Vice President, Marketing
ProMach
704-944-5340
More from Paints & Coatings