New IoT Edge Hardware is Now Compatible with Amazon Web Services and Microsoft Azure
Press Release Summary: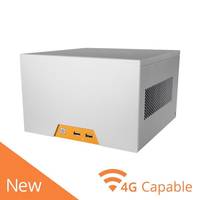 Logic Supply's IoT Edge Hardware includes Edge devices, IoT gateways, deep learning PCs and Edge servers. These units are designed for use in challenging computing environments. The edge hardware can be configured with range of processing, storage, memory and connectivity options. CL200 Fanless Edge Nodes are used in data-producing equipment whereas the gateways are used in data-handling applications. PCs are offered with Intel Core i7 processors and NVIDIA GeForce GTX 1060 for AI applications.
---
Original Press Release:
Logic Supply Unveils Four Edge Hardware Lines With Millions of Possible Configurations, Cloud Service Compatibility and 4G Connectivity
Logic Supply Edge Devices, IoT Gateways, Deep Learning PCs and Edge Servers feature compatibility with Amazon Web Services and Microsoft Azure, as well as 4G pre-certification by leading cellular providers, including AT&T and Verizon.
SOUTH BURLINGTON, VT (JULY 12, 2018)
Global industrial computer manufacturer Logic Supply (www.logicsupply.com) has introduced four new lines of IoT Edge Hardware designed for use in challenging computing environments. Edge hardware options include ultra-small form factor fanless Edge Devices, passively and actively cooled IoT Gateway systems, Deep Learning PCs with GPU configuration options, and Edge Servers. Systems can be configured with a wide range of processing, storage, memory, connectivity and expansion options, with the aim of providing IoT builders with the flexibil ity today's edge computing projects require.
"There is no one-size-fits-all approach to IoT, every project and application has its own unique demands," said Logic Supply Vice President of Products Murat Erdogan. "Ultimately, we want to provide IoT engineers with the best possible computing solution, and that means having the freedom to tailor the hardware configuration to the exact specifications for a given project." 

A Range of IoT Edge Platforms 

The company's edge hardware offering includes small form factor Edge Devices like the recently released, CL200 Fanless Edge Node, designed for deployment directly at the site of data-producing equipment and machinery. 

The IoT Gateway Line adds additional processing power, storage and connectivity for more advanced, multi-source data-handling applications. 

Logic Supply's Deep Learning Computers, including the GPU-capable MC850, can be configured with up to Intel® Core i7 processors and a selection of GPUs, including the NVIDIA GeForce GTX 1060, for advanced image processing, AI or machine learning applications. 

The Edge Server Line enables secure, reliable data management and includes a range of small form factor fanless systems as well as actively-cooled rackmount servers. 

With data security a critical concern for cloud and edge computing applications, Logic Supply utilizes Trusted Platform Module (TPM) hardware, as well as Intel's Platform Trust Technology (PTT) throughout their Edge Line. 

Later this year, Logic Supply plans to expand the line to include Intel Xeon® processing options, as well as accelerator cards including Movidius Vision Processing Units (VPUs) and Field Programmable Gate Arrays (FPGAs). 

Cloud Services 

Many of the systems in the IoT Edge Hardware line have been tested and verified for use with Microsoft Azure and Amazon Web Services, which provide IoT developers access to a wide range of cloud-based applications. Logic Supply recently announced a collaboration with Amazon Web Services to begin offering AWS Greengrass with Machine Learning Inference as a pre-installed option on Logic Supply edge hardware. 

4G Cellular Connectivity 

To ensure reliable network connectivity, Logic Supply's edge hardware features the company's Extrovert 4G LTE Technology, a line of pre-certified modems that enable cellular data transfer in locations where WiFi is either unavailable or unreliable, including in-vehicle or portable monitoring applications. The company also plans to begin offering Bluetooth 5.0 and Long Range, Low Power (LoRa) wireless connectivity as configuration options in the coming months. 
About Logic Supply:
A global industrial PC company focused on hardware for the IoT edge, Logic Supply designs highly-configurable computers engineered for reliability. Their systems operate in the harshest environments and power innovation in the evolving Internet of Things. Fueled by a unique direct-to-customer business model that combines vertical integration, modular product design and a powerful online platform, Logic Supply offers computers ?designed to last, built to order, and delivered in days.? Founded in 2003, the company has served more than 70,000 customers. Logic Supply has offices in North America, Europe, and Taiwan. Learn more about why innovators choose to "Build It With Logic" at www.logicsupply.com or on Twitter @LogicSupply.
More from Thermal & Heating Equipment