New Intrinsics Wipe Collection is Suitable for Cleansing Applications
Press Release Summary: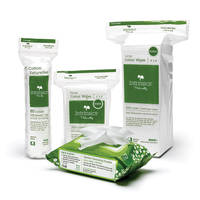 The Qosmedix's Intrinsics® Collection include large and petite cotton wipes, cotton Naturelles™ and gentle cleansing towels. The cotton wipes are offered in 4 x 4 in. and 2 x 2 in. sizes and are used for cleansing skin before waxing or during facial treatments. The dual textured cotton Naturelles™ are used for facial cleansing, make-up and nail-polish removal for applying lotions and creams.
---
Original Press Release:
Qosmedix Expands Intrinsics® Collection
Ronkonkoma, NY, December 13, 2018 – Qosmedix is excited to add four new cotton products to their extensive Intrinsics® collection. Intrinsics® Large Cotton Wipes (Part # 93540) and Petite Cotton Wipes (Part # 93538) are biodegradable, hypoallergenic and made with 100% medical grade cotton. These square 4" x 4" and 2" x 2" wipes can be used to gently exfoliate and cleanse skin before waxing or during facial treatments. For facial cleansing, make-up and nail-polish removal, or for applying lotions, creams and astringents, dual textured Intrinsics® Cotton Naturelles™ (Part # 93534) can be used. These round pads are extra thick, quilted on one side and smooth on the other. Intrinsics® popular Gentle Cleansing Towels, already available in a 25-count pack (Part # 93519), are now offered in a 72-count pack (Part # 93537). These soft wipes are ideal for cleansing before treatments or to remove makeup. The natural botanicals provide a gentle and safe result on all skin types. Please visit www.qosmedix.com to place an order or to learn more about these products.
Qosmedix is an ISO 9001, ISO 14001 certified global supplier to the cosmetic, skin care, spa and salon industries. Founded on the concept of maintaining hygienic practices during beauty consultations, the company has expanded to provide an array of high quality products that offer convenience and value to its customers. The vast inventory includes brushes, swabs, applicators, disposable spa wear, jars, bottles and more. For assistance with sample requests, orders or customization inquiries, please contact a Customer Specialist by phone: +1 (631) 242-3270, fax: +1 (631) 242-3291, or e-mail: info@qosmedix.com. Visit qosmedix.com to view the complete product line or download the latest fullline catalog. Qosmedix is a division of Qosina, a leading international supplier of components to the medical and pharmaceutical industries.
Contact:
Danielle Venticinque
QOSMEDIX
2002-Q Orville Drive N
Ronkonkoma, NY 11779
Tel: +1 (631) 242-3270
More from Computer Hardware & Peripherals