New Intercept Foam Reduces and Neutralizes Harmful Gases in Closed Spaces
Press Release Summary: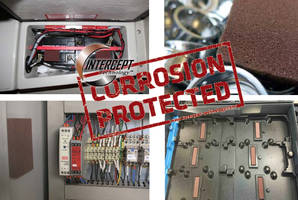 The Intercept Foam is offered in small and large foam stock sizes of 3.5 x 2.5 x 0.5 in. and 11-7/8 x 11-7/8 x 0.5 in. respectively. The product can be placed into safes, compartments, cabinets, console, containers and drawers. The foam is suitable for use in electrical boxes, guns safes, engine compartments and cylinders and tubes. This product should be dried and applied in dry environment.
---
Original Press Release:
The Intercept Technology™ Line of Packaging Materials Has Added a New Product to Its Arsenal of Products for Corrosion Prevention, INTERCEPT FOAM
The Intercept Technology™ line of packaging materials has added a new product to its arsenal of products for corrosion prevention, INTERCEPT FOAM.
With Intercept Foam, the power of intercept Technology is now available in this reactive open-cell, polyurethane foam. Sulfur, chlorides, ozone, acid vapors, and nitrous gases, all react with and are neutralized by Intercept products. This sacrificial technique is optimal, clean, safe, non-contaminating, versatile, and reliable. Intercept Foam will require to be dry and applied in dry environment (Desiccants are advised) Protection from atmospheric corrosion with indicator function due to changing color.
Intercept Foam comes in two stock sizes (SMALL FOAM 3.5" x 2.5" x 0.5"; LARGE FOAM 11 7/8" x 11 7/8" x 0.5"); custom sizes also) that can be easily placed into:
compartments
safes
cabinets
console
drawers
tubes and cylinders
containers
boxes and crates
Intercept Technology™ has eliminated the need for oils, chemicals, volatiles, and other coatings to protect and preserve products for short term or for many years. Intercept Foam is the next evolutionary step for applications where bags and heat-shrinking or other common packaging applications are impossible, such as the previously mentioned cabinets and compartments. Intercept Foam has a massive surface area, thanks to its sponge-like properties, which reduces and neutralizes harmful gases in the smallest or largest of closed spaces and can be effortlessly integrated within existing protection systems.
Its uses are many. Here a few ideas for Intercept Foam.
mothballing and long-term storage
electrical boxes
gun safes
cylinders and tubes
museum or valuables drawers, cases, and cabinets 
engine compartments
additional protection for secure shipping
Our Liberty Intercept specialists are available to answer any questions you may have concerning corrosion protection and possible cost savings in the corrosion preservation process.
Liberty Intercept
(800) 776-5756
More from Electronic Components & Devices