New Intercept Flood Luminaire Uses Low Glare Shield Technology
Press Release Summary: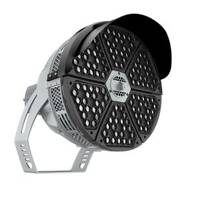 Intercept Flood Luminaire is offered in VFS Field Sport and VAS Arena Sport models in beam spreads of 2 x 2, 3 x 3, 4 x 4 and 5 x 5. Units are available in 3000K, 4000K, 5000K, 5700K color temperatures with a CRI of 70, 80 and 90. The luminaire features 20 kA surge protection and 0-10 V dimming driver. Compliant to RoHS and IP66 standards, unit comes with dynamic thermal management design. Intercept luminaire is used in sports stadiums, entertainment arenas, security lighting, intermodal port, rail centers and airports.
---
Original Press Release:
High-Powered LED Flood Ideal for Sports Venues and Large-Scale Applications
Greenville, SC – July 9, 2018 – The all-new Intercept flood luminaire from Hubbell Outdoor Lighting solves the most prevalent issues negatively impacting sports venues today: short lamp life and glare. Intercept is the ideal LED solution for not only sports stadiums and entertainment arenas, but the general and security lighting of large commercial and industrial environments such as intermodal port, rail centers and airports.
Intercept establishes a new benchmark for glare control with its innovative use of low glare shield technology. Glare issues are a primary concern of large-scale floodlighting applications, and this is especially true for sports venues of all types, be it professional, amateur and even municipal recreation.
The LED optics of Intercept are strategically recessed in a low-glare shield to ensure an ideal mix of optical accuracy, glare control and minimal spill light. The low glare shield on Intercept is unique, having been designed so it would minimally impact the performance. Competitive luminaries on the market that employ similar optical designs have to compensate for performance losses, which increases power, resulting in higher energy costs for the customer.
Scalable LED modules allow for the Intercept to be optimized for each situation or application. Unique low glare shields are then used to ensure minimal negative impact on light output. This level of glare control reduces the candela per meterᶺ2 outside of the beam by 92 percent while affecting the lumen output of the product by less than 10 percent. The result is a 37 percent reduction in the Glare Rating when compared to current industry standards.
The end result is an enhanced experience for customers, patrons and sporting participants.
One of the primary advantages of LED luminaires is the inherent value in the longevity of the product. Intercept features a dynamic thermal management design that maximizes heat dissipation to increase the life of the luminaire. Built-in surge suppression adds an additional layer of protection for the Intercept's driver, which can be integral or remote.
Intercept is simple to install, operate and control. It features modular optical assemblies, which allow lumen output scalability. When 90,000 lumens aren't needed to light the field or arena, it's possible to reduce LED count to precisely optimize output. It also features a variety of NEMA Flood distributions, color temperatures and CRI options. The uniformity of the light is enabled by precision TIR optics to ensure Intercept helps sporting venues comply with any and all TV broadcast standards.
Flexible control solutions, both wired and wireless, contribute to ease of operations. Intercept is capable of providing on/off control to a wireless, fully scheduled system, and it features push button control, scheduling and theatrical control for dimming and effects.
Features and Benefits of Intercept include:
Two different models – the VFS Field Sport for outdoor venues and general flood applications, the VAS Arena Sport for indoor venues
Four different beam spreads: 2×2, 3×3, 4×4 and 5×5
90K lumens, 880 Watts; 60K lumens, 580 Watts; 48K lumens, 440 Watts
3000K, 4000K, 5000K, 5700K
70, 80 and 90 CRI
Light engine is thermally isolated from driver components
20kA surge protection device standard
0-10V dimming driver standard
Driver RoHS compliant and IP66
For more information on the Intercept, please visit the product site HERE.
Media Contact
Michael McCullough
Director of PR
Hubbell Lighting
pr@hubbell-ltg.com
About Hubbell Lighting
Hubbell Lighting is elevating the lighting experience. Empowered by lighting solutions that integrate seamlessly into their environment, save energy, provide improved quality of light, deliver return on investment and armed with Hubbell's unflinching support, its customers are able to think differently about how, where, and when they can use light. As one of the largest lighting fixture manufacturers in North America, it features a suite of brands that provide a full range of indoor and outdoor lighting products serving the commercial, industrial, institutional, and residential markets. Learn more at hubbelllighting.com and engage with the company online at LinkedIn, Twitter, Pinterest, Instagram, YouTube and Facebook.
More from Packaging Products & Equipment