New Intelligent cDragon Contactor Comes with Motion Decoupling Tabs
Press Release Summary: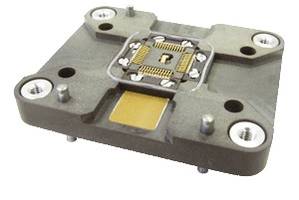 The Intelligent cDragon Contactor is suitable for contacting analog and RF technology in DFN, QFN, QFP and SO packages. The pin design of the contactor offers precise pointing accuracy and improved repeatable test results. The product is offered with force-controlled wipe that prevents objectionable impact on DUT pads and pins. It features a self-cleaning reverse wipe action that extends cleaning intervals and improves the pin life. The cDragon can be used in temperature ranging from -55°C to +155°C.
---
Original Press Release:
Unprecedented Performance in High Temperature Test: Cohu's Intelligent cDragon Contactor Ideally Supports Final Testing at Temperature and Speed
St. Paul, MN (USA), January 2019: Cohu's new cDragon combines advanced test features at temperatures from -55 °C to +155 °C with best RF capabilities and an innovative pin design for highest test yield and low cost of ownership. The closed-loop Intelligent Contactor Option controls the required conditions for the device under test (DUT). cDragon's compatibility with existing setups allows for fast and easy conversion.
cDragon's outstanding temperature performance is achieved by a unique design integrating per pin heat exchangers and applying a closed-loop for temperature control to stabilize the temperature at the DUT. Low contact resistance with 22 GHz makes the cDragon the best choice for contacting advanced analog and RF technology in DFN, QFN, QFP and SO packages.
The innovative design of the cDragon pin ensures high test yield due to precise pointing accuracy and highly repeatable test results. Motion decoupling tabs hold the returning pin in a fixed free height position. The force-controlled wipe ensures reliable contact avoiding objectionable impacts on DUT pads and pin. Applying a non-destructive preload the design eliminates pad wear on the test interface board. The cDragon design features a self-cleaning reverse wipe action for extended cleaning intervals and longer pin life resulting in significantly higher uptime of the test cell.
Bert Brost, Product Manager, explains: "Working closely with our customers we see the need for test at increased device temperature ratings and speed in combination with a lower more stable contact resistance. Traditional contactors and pin design are not able to meet this. The cDragon is a means for making precision electrical contact with the device under test at the specified test temperature. Its low contact resistance makes it the right contactor for testing devices with lower switching voltages and lower operating current due to the low IR drop across the cDragon contact pin. With the cDragon we provide a new standard for high temperature contacting."
To learn more about the Cohu cDragon contactor here. Contact us for more information on beta site opportunities or in-depth test reports [Contact us].
About Cohu
Cohu (NASDAQ: COHU) is a global leader in back-end semiconductor equipment and services, delivering leading-edge solutions for the manufacturing of semiconductors and printed circuit boards. Additional information can be found at www.cohu.com.
trade press interested in technology, products
please contact
Barbara Loferer
Cohu Inc.
12367 Crosthwaite Circle
Poway, CA 92064-6817
Phone : +49 8031 406 216
E-mail: barbara.loferer@Cohu.com
financial media interested in corporate news
please contact
Rich Yerganian
Cohu Inc.
12367 Crosthwaite Circle
Poway, CA 92064-6817
Phone : +1.781-467.5063
E-mail: rich.yerganian@Cohu.com
More from Mechanical Components and Assemblies