Motion Sensors / Detectors / Transducers
New Inertial Sensor Provides Resolution and Low Noise Density for Recording Vibrations
Press Release Summary: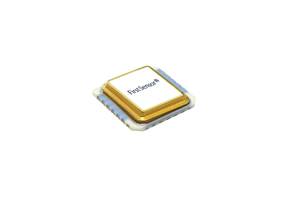 Evaluation kits are available for evaluation and configuration of sensors to support projects and developers
Inertial sensors from first sensor achieves resolution of 10 µg or 0.0005° (2 arc seconds)
Ensure safety in events such as storms, earthquakes, large loads or changes in the foundations
---
Original Press Release:
First Sensor Announces MEMS Inertial Sensors for Structural Monitoring
 Sensitive sensors for safer bridges and wind turbines
Westlake Village, Calif. — May 13, 2019 — First Sensor is launching a new generation of high-accuracy capacitive silicon inertial sensors aimed at applications in the fast-growing market of smart structural monitoring. The new sensors offer the resolution and low noise density required for recording vibrations or changes of inclination in wind turbines, bridges and high-rise buildings, thereby uncovering risks in the structure or material at an early stage. Integrated in smart solutions, these highly cost-effective sensors ensure the safety of structures both in everyday operation and following events such as storms, earthquakes, large loads or changes in the foundations. The sensors for measuring tilt, acceleration and vibration consist of a silicon sensor element made in accordance with a patented micromechanical process (HARMS, AIM) in conjunction with a signal-processing ASIC in a hermetically sealed SMD housing.
Ensuring the safety of exposed structures such as bridges and wind turbines still usually involves time-consuming visits and inspections. Remote structural monitoring using smart sensors creates an attractive growth market because these technologies can be used to continuously monitor and analyze the condition and loading of buildings, bridges and wind turbines. Repairs and safety measures can be organized much more effectively, while potential risks following extraordinary events such as earthquakes, storms and landslides can be better assessed.
To perform these tasks, the inertial sensors from First Sensor achieve resolutions of 10 µg or 0.0005° (2 arc seconds) depending on the bandwidth. In addition to standard models, First Sensor also develops modules that are mechanically and electrically adapted for special customer applications. To support projects and developers, evaluation kits are available for the quick and easy evaluation and configuration of the sensors.
Patented Technology
The high-accuracy inertial sensors from First Sensor detect even the smallest changes in position or acceleration. They offer not only superior performance features, but also an outstanding price–performance ratio compared with existing solutions. The monocrystalline silicon microstructures with a high aspect ratio (HARMS) ensure minimal cross sensitivities, high signal-to-noise ratios and exceptional temperature stability. Furthermore, the patented AIM (air-gap-insulated microstructures) technology minimizes parasitic capacitances by insulating the components with an air gap. As inclination sensors with measurement ranges of ±30°, the sensors achieve a noise density of less than 0.0004°/√Hz and resolutions of less than 0.0015° at a measurement frequency of 10 Hz. When used as acceleration sensors, the MEMS from First Sensor offer measurement ranges of ±3 g, ±8 g and ±15 g and achieve a noise density of less than 30 µg/√Hz and resolutions of less than 40 to 95 µg at a measurement frequency of 10 Hz.
Product information is available at https://www.first-sensor.com/en/products/inertial-sensors/index.html. In the manufacturer's at https://blog.first-sensor.com/en/mems-inertial-sensors-function, the function and precision of the MEMS sensors are clearly explained; you can also ask about free webinars.
About First Sensor
First Sensor (www.first-sensor.us) is one of the world's leading suppliers in the field of sensor systems.  We develop and manufacture high-quality, customer-specific sensor solutions for the detection of light, radiation, pressure, flow, level, and acceleration for applications in the Industrial, Medical and Mobility markets.
With over 800 employees, we have development, production and sales sites in Germany, the United States, Canada, China, the Netherlands, Great Britain, France, Sweden and Denmark along with a worldwide partner network.
US locations include Westlake Village, California, and Mansfield, Massachusetts.
First Sensor AG is listed in the Prime Standard of the German stock exchange in Frankfurt.
Press Contact:
Don Goncalves
781.793.9380
More from Fasteners & Hardware