New Improvements to a Classic Tool
Press Release Summary: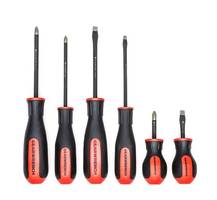 GEARWRENCH Diamond-Tip Screwdrivers are designed with a tri-lobe, dual-material ergonomic handle which is oil and solvent resistant. It also has a Speed Zone for fast turning in low-torque applications.  The diamond coated tips provide four times more gripping power, reduced cam-out and slippage. 
---
Original Press Release:
New GEARWRENCH Diamond Tip Screwdrivers Are a Tool User's Best Friend
SPARKS, Md., Oct. 29, 2018 /PRNewswire/ -- When improving on a classic tool, it's the littlest details that make the biggest difference. The new GEARWRENCH® Diamond-Tip Screwdriver Set gets to the nitty gritty of this iconic tool to make it better and more durable for those that use screwdrivers every day. A part of the Apex Tool Group, GEARWRENCH is a brand of professional hand tools and accessories.
The GEARWRENCH Diamond Tip Screwdrivers are engineered with tri-lobe ergonomic handles for optimal strength and comfort, and a Speed Zone for fast turning in low-torque applications. The dual-material handle is oil and solvent resistant, providing better comfort and performance. Manganese phosphate coated blades provide superior corrosion resistance, and the diamond-coated tips provide up to four times the gripping power while reducing cam-out and slippage compared to non-diamond-coated tips.
"You might think there's not much you can do to a screwdriver to make it better, but that's what we've done with this new set," said product manager Jim Stewart. "As we do with everything we make, we listened to people who use the tools the most and applied their needs and wants to develop a superior product."
The set of six includes three Phillips-head screwdrivers (#1 x 4", #2 x 1½", #2 x 4") and three slotted screwdrivers (3/16" x 4", ¼" x 1 ½", ¼" x 4").
For more information, go to www.gearwrench.com.
About GEARWRENCH®
GEARWRENCH is a professional hand tool brand from Apex Tool Group, one of the largest hand tool manufacturers in the world. The product line includes wrenches, ratchets, sockets, pliers, impact products, tool storage, torque wrenches and more. The brand serves professional tool users, primarily in automotive and industrial markets, including MRO, construction, mining, energy, transportation and utilities. Visit www.gearwrench.com.
About Apex Tool Group
Apex Tool Group, LLC, headquartered in Sparks, Maryland, is one of the largest worldwide producers of industrial hand and power tools, tool storage, drill chucks, chain and electronic soldering products. Apex serves a multitude of global markets, including automotive, aerospace, electronics, energy, hardware, industrial, and consumer retail. Visit www.apextoolgroup.com.
More from Software