Vision and Imaging Sensors / Detectors
New Image Sensor Supports Multiple Resolution Configurations
Press Release Summary: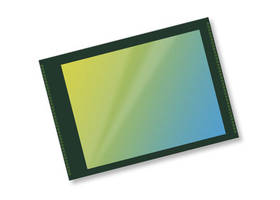 The OV16E10 is a new 16-megapixel image sensor from OmniVision Technologies, Inc. It supports multiple resolution configurations including the outputs of 16-megapixel images, 4K2K videos, 1080p videos and 720p videos at 30, 60, 120 and 180 frames per second respectively.  The sensor is built on OmniVision's  1.12-micron PureCel Plus stacked die technology and it features an integrated 2x1 Microlens phase-detection autofocus function.
---
Original Press Release:
OmniVision's New 16-MP Image Sensor Brings Top Performance and High Resolution to Mainstream Smartphone Market
Best-in-Class 1.12-micron Sensor Enables Fast Advanced Autofocus and Excellent Low-Light Performance for Best User Experience
SANTA CLARA, Calif., Oct. 31, 2018 /PRNewswire/ -- OmniVision Technologies, Inc., a leading developer of advanced digital imaging solutions, today announced the OV16E10—the latest generation of its high-performance 16-megapixel (MP) image sensor family. Built on OmniVision's latest 1.12-micron PureCel® Plus stacked die technology with world-class sensitivity and QE performance, the 1/2.8" OV16E10 sensor comes with advanced imaging features to deliver industry-leading performance for both single- and multi-camera applications.
"With 16-MP cameras moving into a greater variety of smartphones, consumers at all price points expect their phones to deliver high-quality images and video," said Xinjing Wang, product marketing manager at OmniVision. "Following the success of the previous-generation OV16B10 in the high-end mobile segment, this new image sensor brings high resolution with the same excellent image quality and features to the mainstream smartphone market."
Integrated into this sensor is a 2x1 Microlens phase-detection autofocus (PDAF) function, a feature previously associated only with premium smartphones. This advanced PDAF technology imparts smartphones with fast and accurate autofocus capabilities, even in low-light conditions.
The OV16E10 is ideal for dual-camera and tri-camera designs. Its built-in frame rate synchronization supports image fusion in dual- and triple-cameras while simplifying camera system architectures. The OV16E10 also features a gyro interface that reads and synchronizes the motion data from an external gyroscope to enable precise image stabilization for video and still capture.
The sensor also supports multiple resolution configurations, including 16-MP images output at 30 frames per second (fps), 4K2K video at 60fps, 1080p video at 120fps and 720p video at 180fps.
The OV16E10 is sampling now. For more information, product samples or a demonstration, please contact your OmniVision sales representative at sales@ovt.com.
About OmniVision
OmniVision Technologies, Inc. is a leading developer of advanced digital imaging solutions. Its award-winning CMOS imaging technology enables superior image quality in many of today's consumer and commercial applications, including mobile phones, notebooks, tablets and webcams, digital still and video cameras, security and surveillance, entertainment devices, automotive and medical imaging systems. Find out more at www.ovt.com.
OmniVision®, PureCel® Plus, and the OmniVision logo are trademarks or registered trademarks of OmniVision Technologies, Inc. All other trademarks are the property of their respective owners.
More from Software