New IGT5259CW25 Power Transistor is Suitable for C-Band Continuous Wave Applications
Press Release Summary: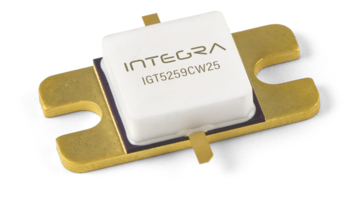 Integra Technologies' IGT5259CW25 GaN/SiC RF Power Transistor is matched to 50 Ω and is operated in 5.2 - 5.9 GHz frequency range. Unit offers a gain of 12 dB and minimum output power of 25 W at 36 V drain bias.
---
Original Press Release:
Fully-Matched, 5-6 GHz RF Power Transistor Offers 25 Watts of Power
EL SEGUNDO, California (USA) – May 23, 2018 – Integra Technologies (www.integratech.com), a leading designer and supplier of high-power RF Power Transistors and RF Power Modules, has announces a new, fully-matched, gallium nitride on silicon carbide (GaN/SiC), RF power transistor that is ideal for C-band, continuous wave (CW) applications.
IGT5259CW25 is fully matched to 50-ohms, operates at the instantaneous frequency range 5.2 - 5.9 GHz, and offers a minimum of 25 W of output power at 36V drain bias. It features 12 dB of gain, and 48% efficiency at CW conditions. (Negative gate voltage and bias sequencing are required when utilizing this transistor.)
IGT5259CW25 is a newly released design. The datasheet is available for download along with this full release at www.integratech.com/PressReleases.aspx.
For immediate assistance or questions regarding IGT5259CW25, please contact Integra's customer service team at www.integratech.com/Contact.aspx.
About Integra Technologies, Inc. | www.integratech.com
Integra is a leading designer, manufacturer, innovator, and global supplier of high-power RF and microwave transistors and power amplifiers. They have a demonstrable heritage as a provider of dependable standard and custom solutions for low to high volume radar, avionics, defense, communications, EW, and ISM programs. The technologies that Integra fabricates with include GaN/SiC HEMT, Si-LDMOS, Si-VDMOS, and Si-Bipolar semiconductor approaches proven in their own fab and with redundant partners.
Agency Contact: Angela McGrath, amcgrath@strandmarketing.com, 978-463-0780
Company Contact: Sales, sales@integratech.com, 310-606-0855 
More from Sensors, Monitors & Transducers