New IGL100 Thin Client Features Hardshell Fanless Technology
Press Release Summary: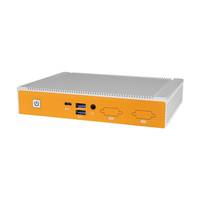 Powered by Dual-core Intel® Celeron® N3350, or quad-core Intel Pentium® N4200 CPU
Supports up to 8 GB of DDR3L memory and include dual independent display support, seven USB ports, and multiple expansion slots
Comes with DIN, VESA, and wall mounting options with WiFi, Bluetooth, or 4G LTE connectivity
---
Original Press Release:
OnLogic's Latest IGEL Ready Thin Client Brings Versatile Power to the IGEL Ready Program
The OnLogic IGL100 blends reliability and versatility to offer the power of IGEL OS in industrial spaces and beyond.
SOUTH BURLINGTON, VT (FEBRUARY 24, 2021) - Global designer and manufacturer of computers built to survive where others would fail, OnLogic (www.onlogic.com) announced the availability of the new IGEL Ready IGL100 thin client for configuration and purchase from OnLogic.com. At less than 1.5 inches (37mm) tall, the slim IGL100 offers plentiful I/O and expansion options in a small form factor designed to fit almost anywhere IGEL OS is needed.
"Though the IGL100 was designed specifically for the needs of industrial computing, the plentiful I/O and small footprint brings a lot of value to any solution requiring extensive connectivity in a compact package," said Johnny Chen, OnLogic Solutions Architect. "We install IGEL OS at time of system assembly and ship, making our IGEL Ready thin clients a great option to ship directly to off-site locations, including remote locations or to team members who are working remotely. This unique service can save time and costs related to warehousing, IT, and OT, namely the handling, imaging, and re-shipping of hardware to the end install location."
Dual-core Intel® Celeron® N3350, or quad-core Intel Pentium® N4200 CPU variants support up to 8 GB of DDR3L memory and include dual independent display support, seven USB ports, and multiple expansion slots. OnLogic's Hardshell™ Fanless technology and DIN, VESA, and wall mounting options allow for functional and streamlined installations, including mounting to compatible monitors to provide a clutter free and silent workspace.
Features and Specifications
Two CPU Options

Intel Celeron N3350 1.1GHz (max burst frequency 2.4GHz)

Intel Pentium N4200 1.1GHz (max burst frequency 2.5GHz)

Slim form factor: 7.72" x 1.45" x 4.76" (196 x 36.75 x 120.8 mm)
Wide input voltage: 9~24 VDC
4 USB 2.0 ports
3 USB 3.2 Gen 1 ports (1 type C)
1 Gb LAN port (N3350) or 2 Gb LAN ports (N4200)
2 DisplayPorts
1 audio jack (mic in, line out)
1 full size mPCIe socket
1 full/half size shared mPCIe/mSATA socket
1 mSATA
Optional Features:

Wall, DIN, and VESA mounting kits
WiFi, Bluetooth, or 4G LTE connectivity
Auto Power On
2 RS-232/422/485 COM ports
OnLogic IGEL Ready Hardware
Tested and verified by IGEL to ensure compatibility, the IGL100 is ready to plug and play. IGEL enables IT organizations to control, update and provision all of their devices from its single pane of glass dashboard. Whether creating a thin client solution for basic web access and office use, or architecting complex cloud workspaces using the Amazon Web Services or Microsoft Azure cloud, OnLogic hardware with pre-imaged IGEL OS gets workspaces up and running quickly.
"We are excited to see OnLogic expanding their portfolio of IGEL Ready verified solutions," said Divya Saggar, Senior Manager, IGEL Alliances at IGEL. "OnLogic's IGEL Ready hardware solutions demonstrate the advantages of leveraging IGEL OS-powered endpoints to support secure access to cloud workspaces in rugged, harsh environments such as factories and other industrial settings."
The OnLogic IGL100 is available for configuration and purchase 24/7 by visiting www.onlogic.com/igl100, or by calling 802-861-2300.
To view OnLogic's partner profile in the IGEL Ready Showcase, visit https://www.igel.com/ready/showcase-partners/onlogic/. To explore the IGEL Ready ecosystem of solutions, visit igel.com/ready.
About OnLogic: OnLogic is a global industrial computer manufacturer who designs highly-configurable, solution-focused computers engineered for reliability at the IoT edge. Their systems operate in the world's harshest environments, empowering customers to solve their most complex computing challenges, no matter their industry. Fueled by a unique, direct-to-customer business model that combines vertical integration, modular product design, and a powerful online platform, OnLogic produces computers designed to last, built to order, and delivered in days. Founded in 2003 as Logic Supply, the company has offices in the U.S., Netherlands, Taiwan and Malaysia. Learn more about how OnLogic has helped more than 70,000 customers worldwide advance their ideas at www.onlogic.com or on Twitter @OnLogic.
More from Communication Systems & Equipment