New IEC Appliance Inlet with Capacitor Fully Enclosed Steel Housing
Press Release Summary: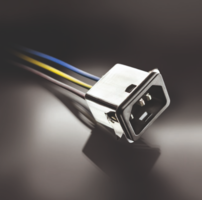 Operating temperature range is -25 to 85°C
Offers current rating up to 10 A /250 VAC according to IEC and up to 15 A at 125/250 VAC according to UL and CSA
Suitable for  laboratory, medical, telecom, audio/video and office equipment
---
Original Press Release:
New! Ultra-Compact IEC Appliance Inlet with Line Filter Saves Valuable Interior Space
Santa Rosa, California, March 8th, 2023 – SCHURTER continues to meet today's increasing demand for smaller electronic equipment with the launch of its 5121 filtered appliance inlet. The new, compact filter series features an IEC C14 inlet with capacitors and a fully enclosed steel housing that reliably shields high-frequency interference conducted through cables or radiated interference.
Especially suited for applications with shallow installation depth, the new 5121 filter series suppresses the equipment's high-frequency interference at the mains input while other additional low-frequency filter components, such as chokes and capacitors, can be placed elsewhere on the PCB. The 5121 features a version for flange mounting and snap-in mounting. The flange is offered with plastic upon metal or metal only. The snap-in version features snap arms. Securing the metal flange to the chassis with metal screws or snap-in version with snap arms ensures optimal shielding at the panel opening, which reduces the coupling effect and the radio frequency's ability to travel. The snap arms also provide a clean and neat look using less panel space and installation time.
The 5121 series is available in both standard and medical M80 versions, making it well-suited for laboratory, industrial, medical, telecom, audio/video equipment, and office equipment. It is safety agency approved by ENEC, CQC, and cURus for currents up to 10 A / 250 VAC according to IEC and up to 15 A at 125/250 VAC according to UL & CSA. Operating temperature range is -25 to 85°C. Supplied with flexible wires for ease of installation, the 5121 series is also V-Lock power cord compatible.
Pricing for the 5121 starts at $7.48 each at 100 pieces. Link to 5121 Datasheet. Link to Landing Page. Link to Full Range Connectors and Power Entry Modules with Filters Catalog or Current Compensated and Linear Chokes Catalog. For sales and product information, contact Savannah Lee at (800) 848-2600 or by email at info.sinc@schurter.com.
About SCHURTER Inc
The SCHURTER Group is the world's leading Swiss technology company providing components that ensure safe power supply and simplified equipment operation. The company's professional competence, innovative strength, and distinctive corporate culture, propel the SCHURTER Group, together with its customers and partners, into the digital future. The safe&easy brand claim not only refers to the products, but also the company's business philosophy, which strives for sustainable success through innovation, high-quality products and service, flexibility, and proximity to customers.
SCHURTER is known globally as an innovator, manufacturer and distributor of fuses, connectors, circuit breakers, switches, and EMC products. SCHURTER products and solutions are developed especially for specific industry segments – medical, data and communication, automotive, avionics & space, energy, and the broader industrial market. SCHURTER considers the quality of its products and services as the key factor to the company's lasting success. Its management and improvement processes are designed and certified according to ISO 9001, ISO 13485, ISO 14001, ISO 45001 and IATF 16949, using the EFQM and Baldrige Excellence Models, as well as the application of Lean Management principles such as Value Stream Planning, Power Innovation, SSO, and Six Sigma.
SCHURTER Inc, Santa Rosa, California is the exclusive North America sales and distribution office for the SCHURTER Group
Editorial Contact:
Stephanie Elliott
Stephanie.elliott@Schurter.com
SCHURTER Inc
447 Aviation Boulevard
Santa Rosa, CA 95403
Tel: +1-707-636-3000
Fax: +1-707-636-3033
www.schurter.com
Contact This Company Download Spec Sheet
More from Electrical Equipment & Systems