New iCON UBERcellFLEX PODs are Designed for Autologous Cell Therapies Manufacturing
Press Release Summary: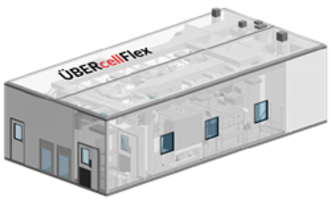 IPS and G-CON offer iCON ÜBERcellFLEX PODs pre-fabricated modular cleanroom infrastructure for clinical and commercial manufacturing of critical therapies. They are available in twelve (12) ft and twenty-four (24) ft wide POD configurations.
---
Original Press Release:
IPS and G-CON Launch iCON Cell Therapy Facility Platform
iCON Cell Therapy Platform Launched with Shipment of the 1st ÜBERcellFLEX PODs
COLLEGE STATION, TEXAS (PRWEB) SEPTEMBER 05, 2018 - Following up on the launch of the iCON Turnkey Facility Platform for a mAb manufacturing facility late last year, IPS-Integrated Project Services, LLC and G-CON Manufacturing have successfully designed and delivered the first ÜBERcellFLEX PODs for the manufacturing of autologous cell therapies. The iCON solution provides a pre-fabricated modular cleanroom infrastructure for the drug manufacturers' requirements for both clinical and commercial manufacture of critical therapies. Following the iCON model, IPS provided the engineering design while G-CON built, tested and delivered the ÜBERcellFLEX CAR-T processing suites in both twelve (12) foot and twenty-four (24) foot wide POD configurations.
"This is an exciting time for our companies as the iCON platform is being adopted by clients who recognize that new innovative approaches are needed to meet the growing demand for cell and gene therapy manufacturing" said Dennis Powers, Vice President of Business Development and Sales Engineering at G-CON Manufacturing Inc. "We believe that the iCON platform approach with its faster and more predictable project schedules for new facility construction are essential for supplying life changing therapies to the patients that need them."
"The gene therapy industry needs standardized solutions to meet its speed to market requirements," said Tom J. Piombino, Vice President & Process Architect at IPS. "In addition to our larger 2K mAb facility platform that we rolled out earlier this year, the ÜBERcellFLEX12 and 24 represent a line of gene/cell therapy products that operating companies can buy today, ready-to-order, in either an open or closed-processing format with little to no engineering time – we start fabricating almost immediately after URS alignment. Multiple cellFLEX units can be installed to scale up/out from Phase 1 Clinical production to Commercial Manufacturing and serve the needs of thousands of CAR-T patients per year. Being able to meet this critical need is consistent with our vision; we're thrilled to be able to offer this modular solution to help our clients get therapies to their patients."
About iCON
The iCON platform, the collaborative efforts of IPS and G-CON Manufacturing, Inc., is redefining facility project execution for the biopharma industry where there is a growing need for more rapidly deployable and flexible manufacturing capability. iCON has launched turnkey designs for monoclonal antibody facilities and autologous cell therapies, and is developing platforms for cell and gene therapies, vaccines, OSD, and aseptic filling. An iCON solution can be deployed for: 
Greenfield Application: Under an EPCMV format, IPS and G-CON Manufacturing deliver a turnkey facility through IOQ, from foundations up.
Interior Fit-Out Application: Under an EPCMV format, IPS and G-CON Manufacturing deliver a turnkey facility through IOQ utilizing an existing facility or shell.
Manufacturing Cleanroom Application: Under a vendor subcontract format, IPS and G-CON Manufacturing deliver offsite prefabricated cleanroom modules for the classified manufacturing areas (either our standard ÜBERFLEX line or custom designs) with the 3rd party process equipment train and qualification being optional.
Custom Applications: Non-standard products or hybrid versions of any of the above.
About G-CON 
G-CON Manufacturing designs, produces and installs prefabricated cleanroom PODs®. G-CON's cleanroom POD portfolio encompasses a variety of different dimensions and purposes, from laboratory environments to personalized medicine and production process platforms. The POD cleanroom units are unique from traditional cleanroom structures due to the ease of scalability, mobility and the ability to repurpose the PODs once the production process reaches the end of its lifecycle. For more information, please visit the Company's website at http://www.gconbio.com.
About IPS
IPS is a global leader in developing innovative facility and bioprocess solutions for the biotechnology and pharmaceutical industries. Through operational expertise and industry-leading knowledge, skill and passion, IPS provides consulting, architecture, engineering, construction management, and compliance services that allow clients to create and manufacture life-impacting products around the world. Headquartered in Blue Bell, PA-USA, IPS is one of the largest multi-national companies servicing the life sciences industry with over 1,100 professionals in the US, Canada, Brazil, UK, Ireland, Switzerland, Singapore, China, and India. Visit our website at http://www.ipsdb.com.
Contact Information
Brittany Berryman
G-CON Manufacturing, Inc.
http://www.gconbio.com
+1 979-431-0700
Ana Maria Collins
IPS-Integrated Project Services, LLC
http://www.ipsdb.com
610-828-4090
More from Machinery & Machining Tools