New IA-3112-U2i Digital I/O Module is ROHS Compliant and CE, FCC Approved
Press Release Summary: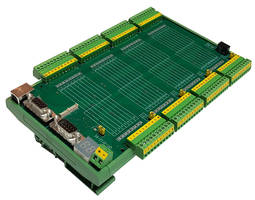 Offers 2500VDC galvanic isolated, with 32 Solid-State output channels that features positive sourcing capability of over 2 Amp each
Features multi-cycle operation task and is designed to operate in harshest of factory floor environments
Provides long operation time, tolerance for both G-shock and vibrations, and high power efficiency
---
Original Press Release:
IA-3112-U2i – 64-ch Power Isolated Digital I/O Tough as a Factory Floor
online-Devices is announcing the latest addition to Intelligent-Appliance 3000 series is now available. 
A Solid State
Multi-cycle operation task - exactly the kind of task solid state devices were developed for. The new intelligent 64-ch, Solid-State I/O series is designed especially for this task - a task in which classic relays might fail within weeks.
'around-the-clock' Relays 
Advantages of Solid state relays in a tough environment include the ability to clock thousands of work hours a year, taking on frequent shock waves and changing G-force without overheating.
Announcing the new addition to OnlineDevices.com stock, the IA-3112-U2i by Intelligent Appliance presents 2500VDC Galvanic Isolated, with 32 Solid-State output channels, featuring a Positive Sourcing capability of over 2 Amp each
As tough as they come
designed to operate in the harshest of factory floor environments, the The IA-3112-U2i boasts Long operation time which is practically endless, silent and cool operation, impressive tolerance for both G-shock and vibrations and high power efficiency.
32 Channels are included in the The Isolated Digital Input section.these channels are divided into 4 separate groups allowing the user to connect 4 machines or instruments with 4 independently isolated common lines, supporting both "Dry-Contact" and "Wet-Contact" operation by each digital output.
CE and FCC approved, ROHS compliant, DIN-Rail and Wall mounted ready, The IA-3112-U2i controllers are Industrial grade. This module is Intelligent-Appliance Series-3000 compatible, including a transparent and simply operated chaining facility.
Similar to all the modules in the Intelligent Appliance 3000 series The dual watch-dog system is implemented into this module as well. Designed and perfected by Intelligent-Appliance, the dual watch-dog system was created to ensure smooth operation and no loss of information: the first watchdog was designed to protect the on-board CPU from the harsh environment, and the second to ensure communication and a host computer secure operation.
Software support 
Like all Intelligent-Appliance products, these modules are supported by Labview and by Visual-Studio drivers, Software utilities and software examples for fast system integration.
About Intelligent-Appliance Team and Products
In the last few years, automation is no longer exclusive to the industrial world. In just a short time automation has made its way into many other areas such as Power and Energy control, Environment Control, Medical field, Building control, Automatic Test Equipment, and even into our homes and home appliances.
Intelligent-Appliance products are developed by a team of Experienced Industrial Engineers using their knowledge and experience to provide Industrial Dedicated solutions with a variety of extra features to best fit the System Developer's need.
Our support team and developer engineers provide extensive technical support for our devices, making the most of their extra features and close relationships with our customers in order to best serve them as well as to make sure that their new products are the perfect fit. Customers' ideas and customers' requests have always been their highest priority.
Intelligent-Appliance cooperates with its customers in order to create tailor made solutions. Their team of highly trained and experienced engineers will help to create the perfect solution needed for the customer's systems according to the specific demand.
for more information on the IA-3112-U2i industrial relay board, and other modules available, please refer to Intelligent-Appliance website: intellient-appliance.com
More from Computer Hardware & Peripherals