New i1 Paint Handheld Spectrophotometer Delivers Quality Paint Match for Common Customer Samples
Press Release Summary: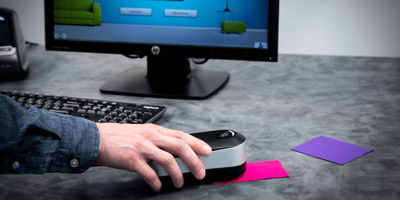 Features Continuous ring illumination and 31-point spectral resolution, resulting in consistent measurement readings
Consists of multi-color LED indicator for one-hand operations and calibration kit that secures to the paint counters
Ideal for paint manufacturers, paint retailers, hardware stores and home improvement retailers
---
Original Press Release:
X-Rite's i1 Paint Helps Paint Retailers Quickly & Efficiently Capture Color Measurements
The new i1 Paint is a cost-effective and easy-to-use handheld spectrophotometer that delivers quality color paint matches for common customer samples, including fan deck cards and painted items.
GRAND RAPIDS, MICH. (PRWEB) AUGUST 13, 2019 - X-Rite Incorporated and Pantone LLC, global leaders in color science and technology, today announce i1 Paint, an easy-to-use handheld spectrophotometer designed for paint manufacturers, paint retailers, hardware stores and home improvement retailers. Using the latest color matching technology, i1 Paint provides a quality paint match for common customer samples such as color cards, fan decks and other painted items. Retail associates can measure a sample in just one second and connect to X-Rite ColorDesigner PLUS paint software to quickly formulate paint recipes. Compared to visual color matching, i1 Paint can save paint counter associates up to 30 minutes per color match, reduce mismatched paints, decrease waste, and increase customer satisfaction.
"X-Rite is committed to offering paint retailers a wide range of color matching solutions to fit their individual needs and budgets starting with i1 Paint to measure common customer samples to our groundbreaking MetaVue non-contact imaging spectrophotometer for matching complex, multicolor or textured samples," said Dave Visnovsky, Product Manager, X-Rite. "By combining measurement devices with formulation software and dispensing systems, retailers can measure a custom color and formulate an accurate paint match for their customers."
i1 Paint features: 
Continuous ring illumination (light source) and 31-point spectral resolution, resulting in consistent measurement readings.
A lightweight, portable design with multi-color LED indicator for one-hand operation and easy readings.
Durable construction that uses a filter glass to prevent damage and contamination to the device's optical components.
A separate calibration kit that can be secured to the paint counter for fast device calibration.
A Kensington security slot, which can be used with a wide variety of Kensington locks to protect and secure the instrument.
Visit X-Rite Booth at Leading Retail Paint Events. 
X-Rite will showcase its entire range of retail paint solutions at upcoming tradeshows. In addition to the new i1 Paint, X-Rite will demonstrate the MetaVue non-contact imaging spectrophotometer. MetaVue provides precise color matches with an advanced smart spot image feature that matches color, taking into consideration the impact of texture and other appearance effects that typically skew measurements of materials like carpet, vinyl, or fabric.
X-Rite will be attending the following events: 
United States – Orgill, August 22-24 in Chicago, IL; Ace Hardware, September 6-8 in Atlanta, GA; Guild CPO Annual Meeting, September 11 in Chicago, IL, True Value Hardware, October 4-6 in Chicago, IL; Do It Best, October 19-21 in Indianapolis, IN; and Allpro, November 9 in Los Angeles, CA.
Canada – Home Hardware, September 22 -24 in St Jacobs, ON; Can Pro, October 5-6 in Toronto, ON; and Federated Co-Op, October 20-21 in Saskatoon, SK.
i1 Paint is now available. For more information, visit http://www.xrite.com/categories/portable-spectrophotometers/i1-paint
About X-Rite 
Founded in 1958, X-Rite Incorporated is a global leader in the science and technology of color and appearance. With Pantone, X-Rite employs more than 800 people in 11 countries. The company's corporate headquarters are located in Grand Rapids, Mich., with regional headquarters in Europe and Asia and service centers across Europe, the Middle East, Asia, and the Americas. X-Rite offers a full range of solutions used by manufacturers, retailers, printers, photographers and graphic design houses to achieve precise management and communication of color and appearance throughout their processes. X-Rite products and services are recognized standards in the printing, packaging, photography, graphic design, video, automotive, paints, plastics, textiles and medical industries. For further information, please visit http://www.xrite.com.
About Pantone 
Pantone provides the universal language of color that enables color-critical decisions through every stage of the workflow for brands and manufacturers. More than 10 million designers and producers around the world rely on Pantone products and services to help define, communicate and control color from inspiration to realization – leveraging advanced X-Rite technology to achieve color consistency across various materials and finishes for graphics, fashion and product design. Pantone Standards feature digital and physical color specification and workflow tools. The Pantone Color Institute™ provides customized color standards, brand identity and product color consulting as well as trend forecasting inclusive of Pantone Color of the Year, Fashion Runway Color Trend Reports, color psychology and more. Pantone B2B Licensing incorporates the Pantone Color System into different products and services, enabling licensees to communicate and reproduce certified Pantone values and improve efficiencies for their users. Pantone Lifestyle brings color and design together across apparel, home, and accessories. Learn more at http://www.pantone.com.
Contact Information
Alicia Libucha
Xrite Pantone
http://www.xrite.com/
8572050919