New hyperMILL 2020.1 CAD/CAM Suite Increases Overall Programming Performance
Press Release Summary: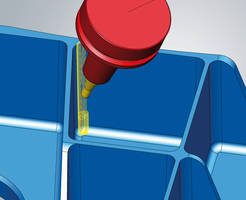 Corner rest machining strategies for 3D and 5-axis techniques provide benefits in complex machining applications including mold and die
5-Axis Blade Tangent Milling strategy increases efficiency and improves surface quality when milling with conical barrel cutters
Includes Slot-Rib probing to measure slots and ribs
---
Original Press Release:
New hyperMILL® 2020.1 CAD/CAM Suite Offers 3D and 5-Axis Machining Enhancements, New Automation, Additive Manufacturing Strategies and More
Needham, MA U.S.A. (February 12, 2020) – OPEN MIND Technologies AG, a leading developer of CAD/CAM software solutions worldwide, has introduced hyperMILL® 2020.1, a new version of its advanced, comprehensive CAD/CAM software suite. In addition to powerful 3D and 5-Axis Machining enhancements for complex part manufacture, the new version increases ease-of-use and overall programming performance, and includes key new automation and additive manufacturing strategies.
"The new version of hyperMILL® encompasses a wide range of user friendly enhancements and important new machining strategies, further advancing the capabilities for accurate, efficient 3D and 5-Axis machining," said Mr. Alan Levine, Managing Director of OPEN MIND Technologies USA, Inc. "We are also very pleased to reinforce our commitment to additive manufacturing and automation in hyperMILL® 2020.1."
For highly productive rest material machining, hyperMILL® 2020.1 offers new Corner Rest Machining strategies for 3D and 5-axis techniques that provide significant benefits in complex machining applications including mold and die. Enabled by a simple instruction, corners can be machined largely by vertical stroking motions. Then traditional z-level steps can be used to blend with the vertical section and the lower floor area. The top section has an automatic surface extension to enable the production of sharp edges.
hyperMILL® 2020.1 features a new 5-Axis Blade Tangent Milling strategy which increases efficiency and improves surface quality when milling with conical barrel cutters that have a large primary angle. As a result, higher feed rates are possible, while avoiding center-cutting. Large stepovers provide an excellent surface finish.
Programming is simplified within the Mill-Turn module by a new Automatic Contour Feature Splitting capability, enabling hyperMILL® to automatically determine the area to be machined based on the turning contour. The grooving job will automatically recognize if a contour is a groove, making it faster and easier to program certain areas.
A new hyperMILL® Automation Center allows users to automate the job list creation processes in hyperCAD® -S, serving as both a development and runtime environment. New features also include the ability to select and position the clamping device, as well as define a uniform process for all programmers.
The powerful ADDITIVE Manufacturing process in hyperMILL® CAM software supports 3D printing/ additive processes and provides efficient hybrid processing with simultaneous additive manufacturing and subtractive machining on one machine tool. hyperMILL® ADDITIVE Manufacturing technology offers flexible strategies for additive material applications, including filling strategies for both planes and free-form shapes, and in 2D and 3D sections. Applications also include hybrid machining to fix damaged parts and additive machining of an existing component.
Improving probing, new hyperMILL® CAM software includes Slot-Rib Probing to measure slots and ribs using familiar technology parameters. For high stock removal rates, 3D machining strategies in hyperMILL® 2020.1 now include 3D Optimized Roughing in high-performance hyperMILL® MAXX Machining mode. The roughing process also offers improved area sorting, resulting in fewer retractions and improved collision checking. In addition, two new user-friendly functions are now available in 3D Profile Finishing including automatic face extension and free tool geometry. Automatic face extension can be used during programming to extend the circumference of selected milling surfaces, eliminating the need to modify the milling faces in the CAD system beforehand. Free tool geometry enables the use of any tool type for highly detailed programming and collision control.
About OPEN MIND Technologies AG
Headquartered in Germany, OPEN MIND is one of the world's leading developers of powerful CAD/CAM solutions for machine and controller-independent programming. The company develops optimized CAD/CAM solutions that include many innovative features unavailable elsewhere, to deliver significantly higher performance in both programming and machining. Strategies such as 2.5D, 3D, as well as 5-axis milling, mill/ turning, and machining operations such as HSC and HPC, are efficiently designed into the hyperMILL® CAM system, providing maximum user benefit and compatibility with all current CAD solutions and extensive programming automation. OPEN MIND strives to be the best, most innovative CAD/CAM developer in the world, and has earned the top five ranking in the CAD/CAM industry according to the 2018 NC Market Analysis Report by CIMdata. OPEN MIND CAD/CAM solutions meet and exceed the requirements of the most demanding industries such as automotive, tool and mold manufacturing, production machining, medical, job shops, energy and aerospace industries, and is represented in all key markets of Asia, Europe and the Americas. OPEN MIND is a Mensch und Maschine Company. http://www.mum.de/ For more information visit www.openmind-tech.com.
Editorial Contact:
Michael McCue
McCue & Associates LLC
978-733-1353
mmccue@mccueassociates.com
Alan Levine
OPEN MIND Technologies USA, Inc.
339-225-4557
alan.levine@openmind-tech.com
More from Communication Systems & Equipment