New Hyper Sport Series Batteries Come with Lithium Technology
Press Release Summary: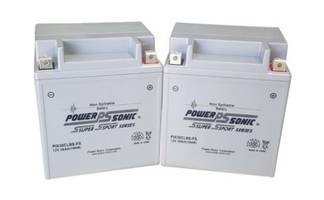 The Hyper Sport Series Batteries are designed for use in Powersport applications such as motorcycle, scooter, ATV's, personal watercraft and UTV's. The lithium technology of the products monitors and reacts to multiple voltage, current and temperature events.
---
Original Press Release:
Power Sonic Launches Hyper Sport Lithium Series
Power Sonic expands its comprehensive PowerSport battery line-up of Super Sport and Ultra Sport to now include a complete line of Hyper Sport lithium products.
The new Hyper Sport series combines proven lithium technology with active intelligent monitoring, delivering a range of batteries that are 4 x lighter, 4 x faster charging and last 4 x longer than original equipment specifications. The system monitors and reacts to multiple voltage, current, and temperature events to maximize performance, battery life and safety.
Power Sonic Market research indicated that battery compartment fit along with all the other benefits of lithium, including ultra-low weight, faster charging, and longer life, was key to meeting customer expectations. Power Sonic Hyper Sport batteries have been specifically designed to fit application battery compartments.
Hyper Sport utilizes Lithium Iron Phosphate (LiFePO4) technology which is the safest type of lithium battery currently available in the PowerSport industry and a ready to go replacement and upgrade from lead acid, AGM or gel.
Designed and engineered at their ISO 9001:2001 certified factories all Power Sonic batteries are subject to stringent quality control through every step of the manufacturing process ensuring both consistency and reliability. The Hyper Sport series are backed by a 2-year limited warranty.
Power Sonic will offer 15 group sizes in their Hyper Sport series covering more than 95% of PowerSport applications including; motorcycle, scooter, ATV's, personal watercraft and UTV's. Available March 2019.
For further information please contact:
Matthew Spendiff-Smith
Marketing & Business Development Manager
+44 1268 560686
About Power Sonic:
Power Sonic are a leading force within the battery industry. From their inception in 1970 their focus has been the design, manufacture and distribution of reliable and innovative battery solutions. Their battery solutions are used worldwide for a broad range of electronic and industrial applications, their key markets include life safety, medical, utilities and infrastructure, powersports and industrial automation.
Their range of battery solutions includes sealed lead acid and lithium technologies, chargers and related accessories. As well as supplying one of the industry's most comprehensive portfolios of battery solutions they also provide flexible, intelligent and cutting-edge energy storage solutions for smarter energy management.
Power Sonic employ over 1,000 people worldwide with corporate headquarters in the USA with major operations in UK, France, Mexico and The Netherlands. 
More from Electrical Equipment & Systems