Sensors / Detectors / Transducers
New HPS 400 for Injection Molding
Press Release Summary: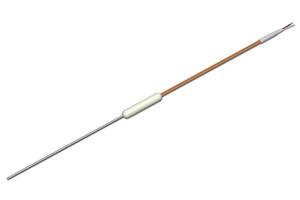 Specifications include heat resistance of up to 400°C and tensile strength of more than 120 N
Provides sensors with thermal and mechanical stability at critical transition zone from measuring tip to compensating leads
Offers advantages such as long life of sensors, design possibilities during installation, higher operational reliability and installation without additional protective measures
---
Original Press Release:
Better Protection for Thermal Sensors
Manufacturer hotset develops innovative connection head made of hybrid material
With the new connection head HPS 400 the thermodynamics specialist hotset expands the technical range of thermosensors and RTDs of its product hotcontrol. Due to its heat resistance of up to 400° C and a tensile strength of more than 120 N, the connection head provides the sensors with very good thermal and mechanical stability at the critical transition zone from the measuring tip to the compensating leads. Especially under extreme conditions during temperature measurement, this increases operational reliability as well as the life of the sensors.
Whether in process technology, injection molding or electronics, whether in hot runner systems or in analysis equipment for medical technology - the recording, measuring and monitoring of temperatures is one of the most important disciplines in almost all technical areas. Within the hotcontrol product range, the thermodynamics specialist hotset offers a large selection of highquality thermosensors and RTDs. Due to the intensive development at the headquarters in Lüdenscheid and at the manufacturing plant in Malta, hotset can regularly extent this portfolio and thus increase the innovative scope of his customers. The youngest child of hotset's creative minds is the new HPS 400 connection or transition head for the thermal sensors of the hotcontrol series. The component is now available and can impress with two decisive features: Like the transition heads made of stainless steel that have been - and are still - available, the HPS 400 has a very high temperature stability of 400° C and is also characterised by a high tensile strength of over 120 N. The HPS 400 is also available in a variety of different versions. For many measurement and testing applications - for example in high-voltage or e-mobility applications - this offers numerous advantages. Like a longer life of the sensors, more design possibilities during installation, higher operational reliability, installation without additional protective measures and much more.
Important connection
The transition head of thermosensors and RTDs fulfills a number of important tasks which should not be underestimated. "The connecting head has a housing function and is located at a neuralgic point of the sensors. It is responsible for the full protection of the fragile connection between the fine measuring tip and the wafer-thin compensating leads. In concrete terms, this means that the head must seal against moisture, ensure strain relief and, above all, be resistant to high temperatures," explains Adrian Strojny, Product Manager at hotset. In addition, one must know that at the measuring tip of a thermosensor temperatures of up to 1,100° C can be applied and the compensation leads are designed for up to 400° C - in special cases also up to 600° C. The transition or connection head must be able to keep up with this.
On the way to the optimal material
The way to the new HPS 400 led the hotset developers through several test stages with different materials. In addition to the usual standard requirements (moisture density, electrical insulation, etc.), the third objective was that it can be used for injection molding. "Our first approaches with different technical plastics did not meet our high demands. But when we started working with composite materials, a solution emerged," reports Adrian Strojny.
The decision was finally made in favour of an innovative hybrid material that meets all the requirements and has since proven its practical suitability in initial pilot series. "This material is an ideal solution. Its temperature resistance is even higher than the 400° C we require and allows us to produce the new HPS 400 by injection molding - much faster and cheaper than the stainless steel heads," says Adrian Strojny.
New fields of application and more safety
The connection head HPS 400 is a great enrichment for the hotcontrol product line and opens up new applications in higher temperature ranges for the users of hotset thermosensors and RTDs. Thanks to the already mentioned high tensile strength of more than 120 N, it also proves to be extremely resistant to mechanical loads. Furthermore, the new connection head is also water- and dustproof to IP 67 (depending on the lead). It is currently available for mineral insulated thermosensors and RTDs with diameters of 1.0 and 1.5 mm. Further versions are already in preparation.
By the way: If you would like to know more details about the new HPS 400 from hotset, you can already look forward to this year's K Show (16.-23.10.2019) in Düsseldorf. There, the new connection head will be one of the technical highlights at the company's stand in Hall 1 (Stand A20).
More from Agricultural & Farming Products