Additive Manufacturing Systems
New High Speed Extrusion 3D Printing System Uses FlashFuse Technology
Press Release Summary: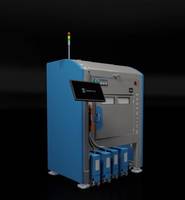 The High Speed Extrusion 3D Printing System allows manufacturers to harness the power of 3D printing without losing accuracy and speed. The system has a 740 x 510 x 650 mm build area and 0.4, 0.8, 1.2 mm nozzle diameters. The FlashFuse™ uses plasma heat source for conducting electricity through a network of carbon nanotubes that are integrated into Ultrafuse materials.
---
Original Press Release:
Essentium Ushers in New Era of 3D Printing with Breakthrough Platform for Production Scale Additive Manufacturing
Essentium High Speed Extrusion Platform (HSE) unveiled at Formnext: Booth 3.1-J50
High Speed Extrusion (HSE) 3D printing platform delivers unprecedented strength, speed, and scale
Independent survey highlights the magnitude of commercial impact of Essentium HSE Platform
COLLEGE STATION, Texas, Nov. 12, 2018 /PRNewswire/ -- Essentium, Inc., a leading provider of 3D printing technology for additive manufacturing, today announced the release of the Essentium High Speed Extrusion (HSE) Platform, a groundbreaking 3D printing system designed to transform manufacturing floors and solve the issues of strength, speed, and scale once and for all.
Essentium conducted an independent survey(1) of 3D printing stakeholders to understand the major obstacles faced by the additive manufacturing industry. When asked about the obstacles to adopting large scale 3D printing, 77% of respondents cited the high cost of 3D printing technology and materials, 34% cited lack of scale, and 31% cited the unreliability of the printed parts as the top three obstacles. The Essentium HSE Platform addresses these obstacles. To illustrate the magnitude of commercial potential that the Essentium HSE Platform will unlock, 80% of survey respondents believe the manufacturing industry will save billions of dollars in production costs when 3D printing technology matures. 
With the new Essentium HSE, manufacturers can finally harness the power of 3D printing at scale without sacrificing accuracy or speed. What's more, they can experience uncompromised execution capabilities, unhindered innovation, and unprecedented cost benefits.
What makes Essentium's HSE unique? The first key differentiator is its strength. Specifically, the platform can print materials that achieve similar properties of an injection molded part.
In the past, 3D printing was limited from reaching its full potential due to weakness between the bonds of each deposited layer. With Essentium's FlashFuse™ technology, that problem is a thing of the past. FlashFuse utilizes a plasma heat source to conduct electricity through a network of carbon nanotubes integrated into Essentium's Ultrafuse materials. This reaction in turn welds each layer as it is deposited, thus creating a stronger bond that achieves the tensile strength of injection molded thermoplastics.
The second crucial benefit is speed. Traditional extrusion 3D printing processes are painstakingly slow, taking hours to produce a relatively simple geometry and days to produce complex design. The HSE platform tackled this barrier head on, printing parts 10 times faster than conventional Fused Filament Fabrication (FFF) printers by utilizing a non-slip, high torque extruder system and all linear motors
The third advantage is scale, especially for large volume production. For decades, 3D printing has dangled the promise of building more than just prototypes, and actually creating parts at scale. But it has largely broken that promise—until now.
Essentium customers are implementing the HSE Platform into their shops and adding them to production lines just like they would a new injection molding or CNC machine. In fact, one Essentium customer decreased its time to tool by 90 percent and achieved a 60 percent cost savings over other extrusion 3D printing methods.
SUPPORTING QUOTES:
Blake Teipel, CEO of Essentium: "Customers have long struggled to achieve the kind of economics that would allow them to use additive manufacturing at scale. The HSE Platform shatters all norms and allows organizations to finally start using 3D printing as a real manufacturing process—without compromising cost, speed, strength, or accuracy. Essentium's HSE is at the forefront of a new generation of 3D printing and is changing the game for manufacturers forever."
Bryan Robinson, Engineer at Quadrant Engineering Plastic Products: "We wanted to explore the technology of the HSE with Essentium because of the strength and growth it could provide to Quadrant and our customers. Running the machine is simple and working with Essentium is easy. What takes traditional 3D printing a few days, Essentium HSE can do in minutes."
Volker Hammes, Managing Director of BASF 3D Printing Solutions GmbH: "The BASF and Essentium partnership combines the materials solution with industrial speed, scale, and strength 3D printing needed to overcome some of the big technology challenges of additive manufacturing today."
The HSE 180·S Platform is available now for commercial order with delivery in 2019.
Learn more at http://www.Essentium3d.com 
Follow us on: Twitter, YouTube, LinkedIn
About Essentium
As innovators in both materials and production systems, Essentium is committed to creating digitally-enabled solutions at scale for the world's top manufacturers. Essentium provides a new generation of industrial 3D manufacturing platforms with performance, reliability, and economics in mind.
For more media information:
USA AND INTERNATIONAL:
GERMANY:
1 Independent Survey conducted by Dimension Research into over 100 printing stakeholders in production manufacturing. Conducted in October 2018. Commissioned by Essentium.
More from Electrical Equipment & Systems