New Helical AD Shoulder Milling Cutter Features Nickel Plated Body
Press Release Summary: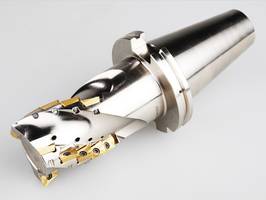 The Helical AD Shoulder Milling Cutter is now offered with ADMX 16 inserts and is suitable for machining engineering materials such as cast iron, stainless steel, aluminum alloys and super alloys. The cutter offers a depth cut of up to 3.150 in. The product is designed for roughing applications and comes with internal coolant delivery that helps in efficient chip evacuation.
---
Original Press Release:
New Shoulder Milling Cutter
Pramet Helical AD – Expanding our Shoulder milling range
Our popular shoulder milling range has been expanded with a new program of inch cutters, geometries and inserts.
The inch version of the popular Helical AD for roughing applications is now available. Offering a depth of cut up to 3.150", the cutters are suitable for use with our Pramet range of versatile ADMX 16 inserts and support medium machining of most engineering materials including cast iron, stainless steel, aluminum alloys and super alloys.
The large clearance between the cutting teeth, combined with internal coolant delivery, promotes efficient chip evacuation. The axial clamping of inserts on the end teeth increases milling stability. This helps to minimize noise and vibration which, in turn, helps in reducing tool wear. The special surface treatment of the body is nickel plated for a higher resistance to corrosion and lower abrasion.
For more information about the Pramet Helical AD cutter, visit us online at www.dormerpramet.com.
About Dormer Pramet:
Dormer Pramet is your simply reliable manufacturer for rotary and indexable drilling, milling, threading and turning tools for the general engineering sector. Market-leading brands include Precision Twist Drill (PTD), Union Butterfield, Dormer and Pramet. With best-in-class training, support and logistics services, Dormer Pramet has become the reliable one-stop-shop for general purpose and multi-application cutting tools. Visit us at www.dormerpramet.com.
More from Electronic Components & Devices