New Hand Sanitizer from Cole-Parmer Requires No Rinsing or Drying
Press Release Summary: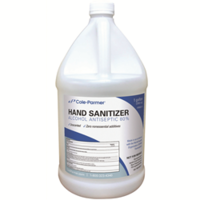 Available in one-gallon containers
Made with 80% alcohol to WHO formulation and has zero nonessential additives
Helps to reduce bacteria that can cause disease
---
Original Press Release:
New Cole-Parmer Hand Sanitizer is Made with 80% Alcohol and According to WHO Formulation
Cole-Parmer hand sanitizer helps reduce bacteria that can cause disease. It is for use when soap and water are not available.
VERNON HILLS, ILL. (PRWEB) MAY 18, 2020 - Reduce the risk of cross-contamination in process facilities, and other areas where workers are in close proximity, when using new Cole-Parmer® Hand Sanitizer. The hand sanitizer is made with 80% alcohol in USA to WHO formulation at FDA registered site. Use Cole-Parmer hand sanitizer to help reduce bacteria that potentially can cause disease.
The Centers for Disease Control and Prevention (CDC) recommends the use of alcohol-based hand sanitizers with greater than 60% ethanol or 70% isopropanol as the preferred form of hand hygiene when soap and water are not available. The Cole-Parmer hand sanitizer is made with 80% alcohol content and has zero nonessential additives. Since no rinsing or drying is required, each topical application is fast and easy. It is unscented and available in one-gallon containers. This product is only available in the continental United States.
Cole-Parmer is a leading global manufacturer of Fluid Handling, Test & Measurement and Biosciences products, instrumentation, equipment and supplies. We are proven experts in the fields of temperature measurement, spectroscopy, fluid handling, sample preparation & handling and chromatography. Our products & instruments are used extensively in the industrial, pharmaceutical, life sciences, environmental and food & beverage industries. Our portfolio of unique industry-leading brands includes Argos Technologies®, Environmental Express®, Jenway®, Kinesis®, Masterflex®, Masterflex Ismatec®, Oakton®, PCRmax®, Stuart®, Techne®, TELOS®, Traceable®, and Vaplock™. We also partner with a number of key suppliers with industry-leading products.
Cole-Parmer is globally renowned for our highly-responsive customer service and experienced technical support representatives. Pipette Service and Calibration and Instrument Service facilities are also available in our North American and European locations.
More from Architectural & Civil Engineering Products