Electrical Sensors / Detectors / Transducers
New Ground Fault Sensor from NK Technologies Provide Ample Space for Multiple Conductors
Press Release Summary: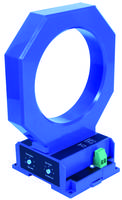 Applications include water treatment and delivery, generators and monitoring large machines
Provides ample space for multiple conductors up to 800 amps through a single sensing ring
Compatible with most automation and control systems
---
Original Press Release:
NK Technologies Introduces AG-LC Series Ground Fault Sensor: New Large Solid-Core Design Ideal for Monitoring Larger Circuits
SAN JOSE, CA – July 12, 2019 – NK Technologies announced the AG-LC Series, a new ground fault sensor that makes it easy to monitor larger circuits. The 2011 NEC requires ground fault protection of the main over-current device feeding marinas and boatyards, where these services often carry up to 800 amps. Most sensor designs do not allow the conductors to pass through a single sensing ring, requiring a separate sensing device such as a zero-sequence current transformer. The AG-LC Series resolves this issue with an innovative large solid-core housing design that provides ample space for multiple conductors to pass easily through one sensing window.
Key applications include:
• Monitoring large machines: Detecting leakage to earth before the problem can cause damage
• Water treatment and delivery: Keeping pumping systems safe and in operation
• Generators: Shut down equipment when leakage current exceeds hazardous levels
AG-LC Series highlights include:
• Electromechanical relay output provides both normally open and normally closed contacts
• Compatible with most automation and control systems
• Externally powered – choice of fail-safe or standard operation
• Simple field setpoint adjustment
• Adjustable time delay
• DIN Rail or panel mount
Media contacts:
Company: Will Delsman | 408.871.7510, x1013 | wdelsman@nktechnologies.com
Agency: Julie Eleftheriou | 952.913.3065 | julie@longrenparks.com
ABOUT NK TECHNOLOGIES
Founded in 1982, NK Technologies designed the first low-cost solid-state current sensing technology that underlies the industry today.
Today, NK Technologies is a leading provider of current sensing, ground fault detection, voltage measurement and power monitoring products to the industrial and factory automation markets, with a product portfolio that includes more than 1300 models to satisfy a wide range of specific application needs. As the needs of these markets change, NK Technologies is well-positioned to respond with sophisticated new product designs and improved product functionality necessary to meet those applications.
NK Technologies, 3511 Charter Park Drive, San Jose, CA 95136; 800.959.4014; fax: 408.871.7515 sales@nktechnologies.com; www.nktechnologies.com.
More from Fluid & Gas Flow Equipment