New Greenerd Hydraulic Presses Provide Precise Control of Speed and Force in Aerospace Straightening Application.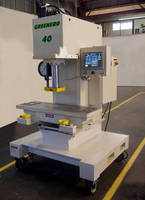 NASHUA, NH U.S.A. — Greenerd Press & Machine Company, Inc. (www.greenerd.com) announced today they recently built and delivered three bench type C-frame  40-Ton Hydraulic Straightening Presses, model HPBS-40, for a major U.S. airplane manufacturer. The presses, designed for straightening wing spar cords, feature electronic joystick ram control, made possible via proportional valve technology, which provides full, precise control of speed and force at any point of the machine's stroke. This enables substantially increased accuracy, repeatability and part throughput while eliminating trial and error via manual operation.



"The ability to have precise control of force applied to the work saves parts, eliminates guesswork and significantly improves manufacturing productivity, all of which are critical in the aerospace industry (http://greenerd.com/industries/showroom/aerospace.aspx)," said Mike Moran, National Sales Manager at Greenerd.



The Greenerd Straightening Presses also feature a powerful, compact control panel for digital control over press functions. A user-friendly touch screen allows fast, easy entry of set-up parameters. Tonnage and ram position can also be viewed at any position during each stroke.



The presses feature a rugged frame designed to exacting FEA standards, are rated 40 Ton, have a 20" daylight and a 14" stroke. The presses have numerous functions such as pressure reversal, distance reversal, top stop, slow down, bottom stop stroke positions, manual speed control and fixed pendant mounting at the head.



The Greenerd Straightening Presses are also designed with a critical safety function; release of either the joystick or palm button instantly stops the press ram. (The user's free hand must actuate and hold the palm button for the joy stick to be operated.)



About Greenerd

Founded in New England in 1883, Greenerd has designed and built thousands of high-quality custom and standard hydraulic presses since 1934. Machines include an extensive line of Hydraulic Presses in all sizes and configurations. A complete line of Arbor Presses is also available. Greenerd Presses are made to withstand the rigors of around-the-clock production and deliver many years of service.



Greenerd engineers have years of experience successfully designing presses for a broad range of manufacturing applications. They rely on the latest technologies to deliver the safest, most efficient and reliable machine capabilities. View the Greenerd Press Capabilities Video at http://www.youtube.com/watch?v=bJ98RsTIQn0 to learn more about Greenerd's solutions.



Greenerd Presses are available as standard machines or can be designed for custom applications by expert engineers with extensive application experience. For more information, contact Mr. Tom Lavoie at Greenerd. Phone number 800-877-9110, x 251, e-mail tlavoie@greenerd.com or visit www.greenerd.com.

Related