New Greenerd Hydraulic Forming Press Streamlines Manufacturing and Improves Controls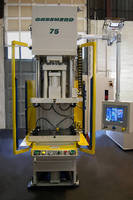 Press Features Advanced Design That Eliminates Expensive Scrap for Medical Device Manufacturer.



NASHUA, NH U.S.A.  – Greenerd Press & Machine Company, Inc. announced today they recently completed construction of a new "Engineered to Fit" 75-ton hydraulic forming press for a medical device manufacturer. The Greenerd press features an advanced design which provides the manufacturer with greater control and a more streamlined production process. (http://www.greenerd.com/)



The press, which has helped to reduce expensive scrap, was specifically engineered for a forming process producing Titanium blanks to a critical final specification. The new 75-ton Greenerd press features a 35-ton cushion cylinder that is also used as a knockout.  A secondary ram mounted 20-ton cushion / eject has proportionally controlled speed for the eject function. 



The Greenerd press provides hydraulic clamping for a quick change-over of tooling, plus RFID identification of tooling to prevent the use of incorrect tool sets and / or tool program mismatch, streamlining the production process. Closed-loop control of the tooling heaters, using a Watlow temp controller, facilitates each part being drawn at the same 600 degree Fahrenheit temperature within a tolerance of +/- one degree.



The press is capable of multiple dwell positions and times during each cycle, and also features extremely slow closed-loop processing speed control for drawing super tough alloys, such as Titanium.   The main RAM has two pressing circuits, offering a fast press configuration which is adjustable from 7.2 IPM to 36 IPM and a slow press set-up which is adjustable from 0.2 IPM to 2.0 IPM.



Greenerd's state-of-the-art controls feature a robust press touch screen that integrates all press and tool controls, including process trending and trouble-shooting feedback. In addition, the integral cushion with distance and pressure control / feedback provides unparalleled flexibility and control.



"This press is a perfect example of Greenerd's unique strength which lies in the relationships we develop with our customers," said Greenerd Press & Machine Company President, Mr. Tim Dining. "Learning about our customer's business, applications and objectives allowed us to design and build a press that is best suited for their needs and allows them to achieve their goals."



About Greenerd

Founded in New England in 1883, Greenerd has designed and built thousands of high-quality custom and standard hydraulic presses since 1934. Machines include an extensive line of Hydraulic Presses in all sizes and configurations. A complete line of Arbor Presses is also available. Greenerd Presses are made to withstand the rigors of around-the-clock production and deliver many years of service.



Greenerd engineers have years of experience successfully designing presses for a broad range of manufacturing applications. They rely on the latest technologies to deliver the safest, most efficient and reliable machine capabilities. View the Greenerd Press Capabilities Video at www.youtube.com/watch?v=bJ98RsTIQn0 to learn more about Greenerd's solutions.



Greenerd Presses are available as standard machines or can be designed for custom applications by expert engineers with extensive application experience. For more information, contact Mr. Tom Lavoie at Greenerd. Phone number 800-877-9110, x 251, e-mail tlavoie@greenerd.com or visit www.greenerd.com .

Related