New Green Storage Solutions Protects Data Against Hacking
Press Release Summary: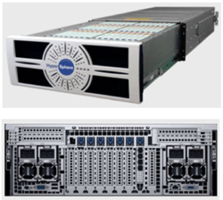 Works with any form of pre-existing encryption or security paradigm
Available with over 1,500 TB RAW capacity in single 4RU chassis
Provides file and block storage on the same hardware
---
Original Press Release:
HyperSphere Releases Green Storage Solutions to Complement Its Quantum Immune Data Protection (QIDP™)
HyperSphere Technologies, Inc. announces the launch of unparalleled storage solutions to complement its breakthrough data security products.
Atlanta (PRWeb) August 05, 2019 -- HyperSphere now offers intelligent, all-flash storage products backed by one of the strongest warranties in the industry. Say goodbye to storage technologies that have write limitations or slow speeds when the drive reaches near capacity. Put an end to the high power and space consumption in your data center. Reduce your energy costs by up to 75% with the highest density in the industry. Enjoy HyperSphere's ability to provide file and block storage on the same hardware.
HyperSphere Storage Solutions Details:
Hyper Speed – Over 2 million IOPS. Over 7 GB per second. Single 2U chassis.
Incredible Reliability – Active / Active. Hot Swappable. Multi-Node availability.
Insane Density – Over 1,500 TB RAW capacity in a single 4RU chassis.
File Block NAS Object – InfiniBand 100G Ethernet. 16G & 32G Fiber Channe
HyperSphere's storage solutions are the perfect fit to our patented security technology globally available via a RESTFUL API to be easily integrated into any company offering. With our technology, the data simply does not exist to be attacked except when needed for use. But when you need the data back, you get it. Moreover, the technology works with any form of pre-existing encryption or security paradigm. When it comes to advanced data security, or identity management technology, we are the benchmark.
HyperSphere Security Solutions Details:
Quantum Immune Data Protection (QIDP™) – We protect data against all hacking including that done by today's quantum computers.
Patented Technology – Our technology is so exceptional and exclusive we have been awarded patent rights.
Complementary Technology – Use our technology to enhance or even replace your current security paradigm.
Ease of Use – Our technology is lightning fast and transparent to the end user.
HyperSphere's new storage solutions and quantum immune data security launch coincides with the launch of our new website www.hyperspheretech.com. The new HyperSphere website is an effort to redesign our website to make it easier for our customers to access the specifics of our data security and data storage products. "We have listened to our customers over the last year and have understood the problems our customers have when trying to navigate a website full of information. Customers desire a simpler look and feel where they can get to the information quickly" – said HyperSphere's CEO George Butzer.
HyperSphere Technologies, Inc. invites you to visit our website or request a demonstration of the world's most advanced data security and storage solutions. www.hyperspheretech.com
Contact Information:
George Butzer
HyperSphere Technologies, Inc.
http://www.hyperspheretech.com
+1-614-323-9766