New Grade Auto-lock Cord Features Grey SJTW Jacket
Press Release Summary: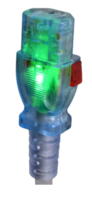 Hospital grade cord is equipped with the signature green dot as well as bright green LED molded into each end
Features 18 gauge and 10 A/125 V rating
---
Original Press Release:
Ultimate Green Light Hospital Grade Auto-Lock®
Hospital environments are always fast paced areas where people are constantly buzzing up and down the hallways. With time being limited and crucial, medical professionals need to know the area that they are using is safe especially with secure power. That is why Quail Electronics is always using the strongest material and highest standards with their Hospital Grade power cords. Now Quail has decided to take that dedication to quality a step further with developing a lighted Hospital Grade Auto-Lock power cord. Our Hospital Grade cord is not only equipped with the signature Green Dot but also a bright green LED molded into each end.
In developing this new cord, Quail has moved away from that red indicator light and wanted to give their customers peace of mind with the bright green LED. Green has always been synonymous with safety and there is no better place to represent that than a hospital environment. Now when you see the green light glowing you know your power is safe and secure. Also, with the additional security of the #1 IEC Auto-Lock® you know your power will stay strong.
Features:
Gauge: 18
Jacket: Grey SJTW
Plug: NEMA 5-15P Hospital Grade
Connector: IEC-60320-C13 Auto-Lock
Rating: 10A/125V
Approval: UL, c-UL
About Quail Electronics®
With more than 30 years of experience in the industry Quail Electronics offers an extensive line of products while providing a one-stop shop solution customers. Quail provides custom solutions when it comes to Power and Electro-mechanical components supporting worldwide applications. Quail can configure a power cord to meet the application you have in mind by matching various molds together, tooling new molds for special needs, or adding custom terminations. On new projects, we can work with regulatory agencies around the world to provide the necessary approvals. We have standing relationships with all such accreditation bodies and extensive knowledge on how to gain and retain certification.
Quail® products comply with international standards. All our products comply with regulations established by RoHS and REACH, and our cords carry the respective approvals of the target market.
Contact:
Quail Electronics,Inc.
2171 Research Drive
Livermore, CA 94550-USA
www.quail.com
Ph:800-669-8090
Fax: 888-669-8090
sales@quail.com