New GNB Fury X-3 Industrial Chargers Use Silicon Carbide MOSFET Power Technology
Press Release Summary: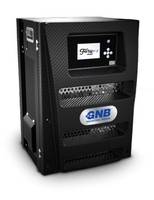 The GNB® Fury X-3™ Industrial Chargers are offered in 24/36/48V multi-voltage modular design and are designed to charge range of motive batteries such as lead acid (Gel, AGM and Flooded) and Lithium Ion. The units allow user to add more modules for additional requirement of power. They are available in 6-18 kW format with six bays for charging flooded lead-acid batteries. The chargers can be programmed using Wi-Fi or Bluetooth via PC or the cloud that enable wireless client configuration onsite from remote location.
---
Original Press Release:
Get Charged: Exide Technologies Launches New Line of Industrial Chargers to Maximize Uptime, Minimize Costs
GNB® Fury X-3™ Charges Multiple Battery Types - Fast!
ATLANTA, Oct. 12, 2018 /PRNewswire/ -- Exide Technologies (www.exide.com) announced today the immediate availability of a new line of chargers for industrial battery fleet applications that provides opportunity and fast charging while minimizing infrastructure costs, service downtime and carbon footprint.
"Companies with material handling needs are looking for ways to do things faster, better and via methods that are smarter for their business and the environment," said Ted Becker, Executive Vice President and President, Exide Americas. "Our Fury X-3 charger is an efficient, compact and powerful charger that costs less to own and is easy to maintain, helping our customers increase operational uptime and stay powered to perform critical business functions while also protecting their bottom line financial results."
The Fury X-3 has an advanced 24/36/48V multi-voltage modular design and can charge a broad range of motive batteries from lead acid (Gel, AGM and Flooded) to Lithium Ion. It uses Silicon Carbide MOSFET (Metal Oxide Semiconductor Field-Effect Transistor) power technology to provide efficient high-frequency power conversion. The combination of these features, along with proprietary rapid charge profiles, can provide faster recharge times for motive power batteries. The GNB Fury X-3 chargers allow users to add more modules if additional power is needed and also provide critical operations back-up; if one module fails, the others continue to operate.
Customers utilizing the Fury X-3 chargers will benefit from impressive graphics, communication and control capabilities, thanks to the chargers' powerful microprocessor. The chargers are programmable with Wi-Fi or Bluetooth via PC or the cloud. This will allow wireless client configuration onsite or from a remote location. This wireless capability also provides users easy access to charge record data via PC or the cloud.
The Fury X-3 is available now in 6-18 kW format with six bays for charging flooded lead-acid batteries. The next offering, also in six-bay format and with profiles for charging Lithium Ion, VRLA, AGM, and Gel batteries, is coming soon. A third edition featuring 21-30 kW with 10 bays will be available in early 2019. Shelf, stand and wall mounting options are also available.
The GNB Fury X-3 is available and shipping now. To learn more about Exide's GNB Industrial Power solutions or to find a GNB Industrial Power dealer, visit http://www.exide.com/furyx3.
About Exide Technologies
Exide Technologies (www.exide.com) is a global provider of stored electrical-energy solutions for the transportation and industrial markets. Exide's 130 years of technology innovation combined with operations in more than 80 countries enables the company to deliver compelling solutions for the world's current and future power needs. Exide produces and recycles a broad range of products, serving the Transportation, Industrial Network Power and Motive Power market segments with battery and energy storage systems and specialty applications for a broad range of industries including: agricultural, automotive, electric, light and heavy-duty truck, marine, materials handling, military, mining, powersport, railroad, security, telecommunications, utility and uninterruptible power supply (UPS), among others. Exide is Powering the World Forward - history and scale combined with a start-up mentality make Exide the right choice for customers who want more than simply a battery supplier.
MEDIA CONTACT: 
Melissa Floyd
Melissa.Floyd@exide.com 
678-566-9927
More from Explosives, Armaments, and Weaponry