New Gigacheck Wireless Analyzer Offers Smartphone App Connectivity to Test WiFi and Ethernet Connection Speeds
Press Release Summary: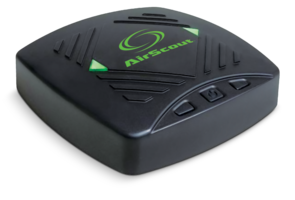 Greenlee Textron Inc. announces GigaCheck in AirScout® line of wireless analyzers for testing Wi-Fi coverage and wired Ethernet connection. It measures signal to noise ratio, PHY rate and transmit/receive success rates on wireless networks using the industry standard Ookla® Speedtest®. The analyzer provides technicians with tools to validate connection speed on wireless and Ethernet networks and verify whether the customers receive the connection speeds they pay for and expect.
---
Original Press Release:
Greenlee Communications Launches AirScout GigaCheck
Easily Verify Network Connection Speeds with Greenlee® Communications AirScout® WiFi® Test System
AirScout® GigaCheck Tests WiFi and Ethernet Connection Speeds up to a full Gigabit
Vista, Calif., (June 19, 2018) — Greenlee Textron Inc., a Textron Inc. (NYSE: TXT) company, announces the addition of GigaCheck to its award-winning AirScout® line of wireless analyzers. Controlled via Smartphone app, GigaCheck tests Wi-Fi coverage as seen from the residential gateway and tests wired Ethernet connection upload and download speeds up to 1Gb in real-time.
"Today's customer demands dependable, high-speed services and expects their service provider will deliver the speed they pay for. AirScout GigaCheck gives technicians the tools needed to quickly and easily validate connection speeds on both wireless and ethernet networks," explains Oleg Fishel, Director of PLM for Greenlee Communications.
AirScout GigaCheck measures Signal to Noise Ratio, PHY Rate and transmit/receive success rates on wireless networks using the industry standard Ookla® Speedtest®. Upload/download and Ping tests are performed on both Ethernet and WiFi for real-time speed testing.
The AirScout unit connects to the wireless router in one-click and is controlled via a smartphone app. The simple connection and intuitive user interface of the app make it easy for technicians to verify customers are receiving the connection speeds they pay for and expect. Technicians define pass/fail thresholds based upon their SLA and can generate reports and save them in the Cloud for easy transference and transparency of test results.
BTR, Broadband Technology Report, awarded AirScout Enterprise the 2017 Diamond Technology Winner in Wi-Fi Solutions. For more information on the complete AirScout line, visit www.getairscout.com.
Greenlee, under its Greenlee Communications brand, develops Ethernet, Transport, C37.94, Fiber, DSL, Wi-Fi and Copper test solutions, tracing and locating equipment, and fiber/cable jet installation equipment. A broad product portfolio, coupled with solutions-branded Greenlee Utility®, HD Electric Company® and Sherman + Reilly®, creates a single source partner providing unmatched value to the communications and utility markets.
Greenlee Communications
The Greenlee Communications brand offers a complete line of innovative and industryleading test and measurement solutions for the communication service provider industry. Our expertise and innovative solutions address all stages of network deployment enabling the development, installation and maintenance of xDSL, fiber, cable and wireless networks. It is a leading brand of test and measurement solutions in the global communications industry with a long track record of delivering high quality innovative solutions enabling technicians to achieve their goals in a timely manner and with confidence.
Greenlee Textron Inc.
Greenlee Textron Inc. is known as a global leader in the professional tool category. The Rockford, Illinois-based company develops high quality innovative products distinguished by customer-driven design and differentiated by supply chain excellence. It also leverages its powerful brands such as Greenlee Communications and Greenlee Utility in the electrical, construction and maintenance markets worldwide. More information is available at www.greenlee.com.
About Textron Inc.
Textron Inc. is a multi-industry company that leverages its global network of aircraft, defense, industrial and finance businesses to provide customers with innovative solutions and services. Textron is known around the world for its powerful brands such as Bell, Cessna, Beechcraft, Hawker, Jacobsen, Kautex, Lycoming, E-Z-GO, Greenlee, Textron Off Road, Arctic Cat, Textron Systems, and TRU Simulation + Training. For more information, visit: www.textron.com.
Certain statements in this press release may describe strategies, goals, outlook or other non-historical matters; these forward-looking statements speak only as of the date on which they are made, and we undertake no obligation to update them. These statements are subject to known and unknown risks, uncertainties, and other factors that may cause our actual results to differ materially from those expressed or implied by such forward-looking statements.
More from Electronic Components & Devices