New G1460 1U 4xGPU Server from Equus Compute Solutions Includes Four GPUs
Press Release Summary: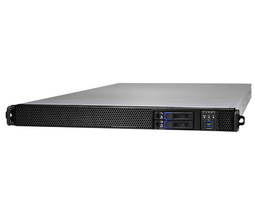 Equus Compute Solutions' new G1460 1U 4xGPU Server is designed for experimental workloads, including GPU direct RDMA and AI neural network workloads. The G1460 includes four PCIe GPUs into a 1U chassis, and is powered by an Intel Xeon scalable processor. Types of GPUs that can be used include Tesla V100, P100, K80, and M10. The server also supports 2x2.5 hot-swap SSD/HDD drives and Open BMC.
---
Original Press Release:
Equus Compute Solutions Announces Release of G1460 1U 4xGPU Server
Server offers high performance and customization ideal for entry-level AI applications
Equus Compute Solutions announces the release of its new G1460 1U 4xGPU server, ideal for GPU Direct RDMA applications and AI neural network workloads. This GPU platform offers higher performance, reduced rack space requirements, and lower power consumption compared with traditional CPU-centric platforms, in a server ideal for experimental workloads.
The innovative design of the G1460 fits four PCIe NVIDIA Telsa GPUs into a 1U chassis allowing class-leading densities. Equus is an NVIDIA Preferred Partner and the clever physical layout allows the use of Tesla V100, P100, K80,or M10 GPUs. Powered by a single Intel® Xeon® Scalable processor, the G1460 greatly reduces the CPU costs of the system, allowing users to focus budgetary expenditures on GPUs or additional systems.
All Equus GPU servers have the unique advantage of flexible GPU sourcing options – install your own GPUs, consign GPUs to Equus for factory installation, or purchase turnkey GPU server systems.
"Our customers have been asking for the flexibility to source GPUs in different ways on high performance servers," said Lee Abrahamson, CTO of Equus Compute Solutions. "Our GPU servers, such as the G1460 server, are the ideal cost-optimized solutions for a wide range of AI applications and workloads. At the same time, these innovative platforms provide benefits of scale and volume, component standardization, ease of service logistics, and the means to avoid vendor lock-in."
The G1460 supports 4x Nvidia Tesla GPUs, 2x2.5" hot-swap SSD/HDD drives, and OpenBMC readiness for open systems management support. More information about Equus Compute Solutions and the G1460 GPU server platform is available at https://www.equuscs.com/servers/gpu-servers/g1460/.
About Us
Equus Compute Solutions customizes white box servers and storage solutions to enable flexible software-defined infrastructures. Delivering low-cost solutions for the enterprise, software appliance vendors, and cloud providers, Equus is one of the leading white-box systems and solutions integrators. Over the last 29 years, we have delivered more than 3.5 million custom-configured servers, software appliances, desktops, and notebooks throughout the world. Our advanced systems support software-defined storage, networking, and virtualization that enable a generation of hyper-converged scale-out applications and solutions. From components to complete servers purchased online through ServersDirect.com, to fully customized fixed-configurations, white box is our DNA. Custom cost-optimized compute solutions is what we do, and driving successful customer business outcomes is what we deliver. Find out how to use open-hardware to enable your software-defined world at www.equuscs.com.
More from Communication Systems & Equipment