New G-Force Compensated Inclinometer Communicates Via J1939 and CAN Protocols
Press Release Summary: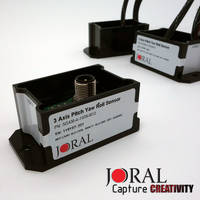 Joral's G-Force Compensated Inclinometer consists of SGAM and DGAM models. The GAM series incline sensors takes input by gyroscope, accelerometer and magnetometer and provide 3-axis output for X, Y and Z as feedback for pitch, yaw and roll. Units meet IP67 standards and are 100% encapsulated. Sensors offer steady feedback during motion and enable user to eliminate complex sensor networks with single G-force compensated inclinometer.
---
Original Press Release:
Joral Introduces Sensor Fusion Inclinometer for Pitch, Yaw, and Roll Feedback
Mukwonago, WI – July 2018 – Joral LLC announces a G-force compensated inclinometer that provides feedback for pitch, yaw, and roll. The new technology utilizes sensor fusion, which is the combining of more than one complementary sensing method. The new Joral SGAM and DGAM incline sensors take input by a gyroscope, accelerometer, and magnetometer to provide a 3-axis output for X, Y, and Z as well as new feedback for pitch, yaw, and roll.
The GAM Series sensor provides steady feedback during motion, allowing users to eliminate complex sensor networks with a single G-force compensated inclinometer. Rather than depending on encoders, string pots, laser gates, and proximity sensors to monitor the position of a ladder, fork or platform, users can place one Joral GAM Series sensor on the application to get real-time feedback for absolute control.
Joral has designed the same level strength into the GAM series as other standard Joral products. Rated with a standard environmental protection of IP67, the GAM series sensors are 100% encapsulated. Designed to eliminate the drawback of accelerometer based incline sensors, the SGAM and DGAM inclinometers are J1939 capable, and available in a convenient form factor with common connection options.
New G-force compensated 3-axis incline sensor
Combines sensing technology of a Gyroscope, Accelerometer, and a Magnetometer
J1939 and CAN Open communicating
Not influenced by acceleration or external motion
Pitch, yaw, and roll feedback in addition to X, Y, and Z
Replace complex sensor system with one sensor on CAN network
IP67 environmental protection standard, IP69k capable
Media Contacts
Company: Katie Klepper, Product Marketing Specialist | 262.378.5506 | kklepper@joralllc.com
Agency: Julie Eleftheriou, Longren & Parks | 952.913.3065 | julie@longrenparks.com
About Joral LLC
Founded in 2005, Joral LLC is the culmination of a long history of development in encoder and sensor technology by companies including Joral Devices, Joral Computer Services, and GS Global Resources. Today, Joral develops and manufactures harsh-duty electronic devices for mobile hydraulics and industrial applications. Joral has redefined the "rugged duty" position sensor by introducing protection methods such as total electronic package encapsulation, LED status indicators, and patented true non-contact coupling.
For more information, call 262.378.5500, visit www.joralllc.com, or email sales@joralllc.com.
More from Controls & Controllers