New Fulcrum AT/12G 4K Video Replay Server Features Universal 12G/3G/HD/SD SDI Video Interface
Press Release Summary: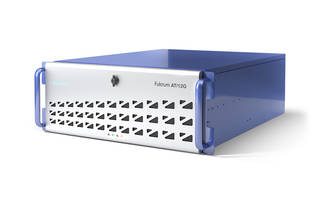 Fulcrum AT/12G 4K Video Replay Server designed to provide operators 10 replay channels (four record + four search + two play). The server is embedded with Multiviewer that offers different video feeds such as displaying video inputs, search channels, and system video outputs. Unit features DCT I-Frame encoder for 3G/HD/1280p/SD and 4x3.5 in. DMR racks and supports 4K/3G/HD/1280p/SD formats. Server provides simultaneous access to all recorded channels and two play channels with transition.
---
Original Press Release:
At NAB Slomo.tv Launches New Fulcrum AT/12G 4K Video Production & SuperMotion Replay Server
4K instant replay server with Super/Slow Motion offers category-leading functionality at cost-effective price
TORRANCE, CA (April 3rd 2018) – At NAB (booth C9815), Slomo.tv, a leading international producer of cost-effective, high performance SSD-based video record and replay systems, will launch the new Fulcrum AT/12G 4K instant replay server. Representing one of Slomo.tv's most advanced replay server systems, this new platform offers operators 10 replay channels (four record + four search + two play). Highlighting its cost-efficiency, the company is offering Fulcrum for USD $60,000 during April 2018.
The compact 4K server system enables advanced slow motion and instant replay capabilities as well as direct recording for editing 'on site'. Search is available on all recorded channels simultaneously with recording and playing back of two channels with transition effects. The automatic creation of clips during instant replays is a Slomo.tv proprietary feature, which allows the operator to quickly create highlights/summary packages while working in instant replay mode
"While 4K cameras are becoming more affordable, the cost of a 4K replay channel is still expensive," commented Igor Vitiorets, CTO at Slomo.tv. "Addressing this issue, we have developed our most affordable, but still powerful broadcast grade 4K slomo server in the Fulcrum AT/12G. Since many manufacturers use 12G SDI interfaces for 4K (UHD) production workflows this server is equipped with universal 12G/3G/HD/SD video interfaces, enabling just one (BNC) connector for all standards. This perfectly fits modern cameras and switchers and significantly reduces the number of connecting cables."
Significant features of Fulcrum AT/12G include:
• Unique in the market 4REC+4SEARCH+2PLAY channel combination.
• Universal 12G/3G/HD/SD SDI video interface
• Support of 4K/3G/HD/1280p/SD formats
• Simultaneous access to all recorded channels and two play channels with transition. For any resolution - (4K/3G/HD/SD) the server provides 4REC+4SEARCH+2PLAY channels.
• For 3G/HD/1280p/SD the DCT I-Frame encoder is used, and for 4K, H264 I-frame.
• SSD storage capacity of 133 hours of HD video could be doubled or quadrupled.
• Four embedded 3.5" DMR racks for SATA hard disks.
• Export and import of video files without additional equipment into native MXF files within editing system with XDCAM422 50 Mbit codec for 3G/HD and QuickTime ProRes 422 for 4K video.
• Wide set of options: SuperMo, ExtraMo and HyperMo cameras support, 10 GbE networking, multi-channel DMR ProRes, DNxHD, XDCAM50, AVC-100, XAVC, H264 recording and telestrator.
• Compact and Lightweight 4U – 56 cm and 18.5 kg form factor making Fulcrum suited to OB environments.
A built-in Multiviewer features five basic configurations of different numbers of video feeds - displaying video inputs, search channels, and system video outputs. Developed specifically for production environments where space-saving is at a premium, a MultiSkin function allows the operator to use one monitor to display different interfaces: the main GUI interface, Multiviewer or Game Analyzer (telestrator).
Together with several SSD technology developers, Slomo.tv has developed the capability of recording and storing high-quality video with SSD technology. The use of SSD storage empowers Slomo.tv servers with a number of advantages – search on all channels, recording uncompressed full-resolution video signals, large built-in storage capacity, lightweight servers, and the ability to operate in harsh conditions including high vibration levels.
About Slomo.tv
Established in 2007, the company has successfully introduced complete lines of high quality multi-channel professional recording and instant replay products. Slomo.tv has brought to market a number of effective solutions for tapeless video production technology. Slomo.tv systems, such as Dominator and Simple R, are widely used on major TV channels, and the company's video judging system for sports, videoReferee®, has become an integral part of many sport arenas worldwide.
Slomo.tv
For more information, please contact:
Bob Charlton; bob@scribe-pr.com; +44 20 7084 6335
Related