New Front Drive Steer and Tridem Rear-Drive Axles Come with Proportioning Inter-Axle
Press Release Summary: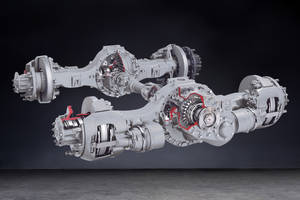 Meritor® offers MX-610™ front-drive and MZ-610™ tridem rear axles for use in multiple sever-duty applications. The MX-610™ axle is offered in double-caliper configuration and is capable of mounting 20 in. wheel rims with a steering angle up to 42 degrees. The MZ-610™ rear axle features GAWR and GCW of 60 and 210 tons respectively. The rear axle provides ratio coverage from 4.11 to 7.21 with standard drum or disc brakes and is equipped with five differential locks.
---
Original Press Release:
Meritor® Announces MX610™ and MZ-610™, Front Drive Steer and Tridem Rear-Drive Axle for Severe-Duty Applications
TROY, Mich., Sept. 19, 2018 /PRNewswire/ -- Meritor, Inc. (NYSE:MTOR) today announced its new MX-610™ front-drive and MZ-610™ tridem rear axle for multiple severe-duty applications.
"The front-drive steer axle and tridem are the next-generation axle combinations from our award-winning 610/P600 series and two of many new products Meritor is bringing to market as part of the company's M2019 growth initiative," said Tony Nicol, vice president, Front & Rear Drivetrain, Europe for Meritor. "Our state-of-the-art manufacturing and assembly system delivers the quality our customers expect for severe-duty applications."
Built to operate in extreme conditions, the MZ-610 tridem offers wide-ranging axle ratings and high ground clearance as well gross axle weight rating (GAWR) of 60 tons and gross combination weight (GCW) of 210 tons.
The MX-610 is designed to fit ELSA®™ disc brakes in a double-caliper configuration to offer high-rated torque with compact packaging. Its small product envelop is capable of mounting 20-inch wheel rims and offers a steering angle up to 42 degrees. A detachable tandem is optional.
Meritor's new proportioning inter-axle differential delivers even torque split between the three axles to maximize traction, load capacity and longevity of the drivetrain. With five differential locks and hardware for optional central tire inflation systems (CTIS), the MZ-610 is equipped for the most demanding applications.
The MZ-610 tridem's wide ratio coverage from 4.11 to 7.21 with standard drum or disc brakes delivers safety and performance for vehicles operating in extreme conditions. The faster ratios support downspeeding to reduce fuel consumption.
"High tractive force in all driving conditions increases vehicle productivity," Nicol said. "An optimized design delivers high power density to handle greater payloads and offers durability and reliability that improves uptime."
As with previous P610 and P600 products, the MX- and MZ-610 were developed for global markets and validated at Meritor's world-class technical center in Cameri, Italy.
About Meritor
Meritor, Inc. is a leading global supplier of drivetrain, mobility, braking and aftermarket solutions for commercial vehicle and industrial markets. With more than a 100-year legacy of providing innovative products that offer superior performance, efficiency and reliability, the company serves commercial truck, trailer, off-highway, defense, specialty and aftermarket customers around the world. Meritor is based in Troy, Mich., United States, and is made up of approximately 8,200 diverse employees who apply their knowledge and skills in manufacturing facilities, engineering centers, joint ventures, distribution centers and global offices in 19 countries. Meritor common stock is traded on the New York Stock Exchange under the ticker symbol MTOR. For important information, visit the company's website at www.meritor.com.
CONTACT: Media Inquiries: Ryan Obert, (248) 435-1701, ryan.obert@meritor.com; Investor Inquiries: Carl Anderson, (248) 435-1588, carl.anderson@meritor.com
More from Chemicals & Gases