New Freezer-Grade PP Resin from Basell for IML Ice Cream Tub Helps Wells' Dairy Achieve 'Fastest-Growing in Category' Status for Blue Bunny® Brand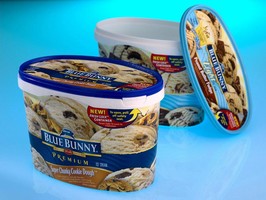 New Freezer-Grade PP Resin from Basell for IML Ice Cream Tub Helps Wells' Dairy Achieve 'Fastest-Growing in Category' Status for Blue Bunny® Brand

Elkton, MD, July 9, 2007 - A switch by Wells' Dairy, Inc., Le Mars, IA, to an elliptical in-mold labelled (IML), injection molded, polypropylene (PP) 56-ounce container for its Blue Bunny® brand has helped make it the U.S.'s fastest growing packaged ice cream in the past year.

"While the ice cream category as a whole has remained flat, consumers have been more willing to try our product because of the innovative packaging. Consumers continue to tell us how much they like the new container. Ice cream remains fresher longer and is so much easier to scoop out of this package," said Lesley Bartholomew, manager, public relations and corporate communications, Wells' Dairy.

Blue Bunny® represents the first U.S. commercial application of Basell's Pro-fax EP390S high impact PP copolymer (opaque) resin which can withstand drop impact at freezer temperatures down to minus 40 degrees Fahrenheit. Previously, food packaging polypropylene grades could only withstand refrigerated temperatures down to 38 degrees Fahrenheit without cracking or breaking on impact. Additionally, Pro-fax EP390S offers high (35 dg/min) melt flow, can withstand microwave temperatures and is dishwasher safe.

"Basell is the leader in the industry when it comes to resin because of its ability to meet the required FDA regulations for food contact approved, freezer grade and impact resistance," Bartholomew said.

"The availability of the grade opens the door to many new applications for injection molders and frozen food packagers," said Dave McKeeman, Basell's new business development manager for injection molding, North America. "Pro-fax EP390S is viewed by molders and packagers as being ideally suited for in-mold labeling applications which do a great job of showcasing the brand due to the label's exceptional print quality. Its consistent melt flow also minimizes problems during the production process."

According to Bartholomew, Blue Bunny® is an example of a brand that is taking advantage of new container making technology to achieve improved sales. Wells' Dairy had been using a traditional round paperboard container with a loose overcap, similar to its competitors. However, it believed that the market was ready for an innovative new direction for ice cream. As a result, the company partnered with several suppliers-including Omaha-based injection-molder Airlite Plastics Co.-to make it a commercial reality.

"Research was done with consumers to verify their acceptance. Consumers told us they were looking for a package which could provide fresher and safer ice cream and a cleaner, easier-to-use and more premium ice cream experience. Wells' Dairy decided to move forward on the project knowing the new container would meet consumer preferences," she added.

"The polypropylene in-mold label was chosen because of the extreme wet environment that ice cream is packaged and stored in-up to minus 40 degrees Fahrenheit. The in-mold label does not separate from the container and the product is delivered to customers in pristine condition. Additionally, since the label is printed separately, this enables us to have cutting-edge graphics that help the product stand out on the retail shelf," Bartholomew said.

The label is offset-printed in five-colors and is supplied by Belgium-based Verstraete, a company with significant printing experience for IML applications. Additional benefits include scratch, crack and wrinkle resistance.

As the U.S. market leader for in-mold labeled, injection molded food containers, Airlite considers most of the details of its manufacturing process to be proprietary. However, the company said that the usual start-up debugging issues were quickly overcome as a result of its considerable IML process experience. (IML is a process in which a printed label is introduced into the mold via robotics before the resin is injected in. This results in the label bonding to the piece before it cools and becoming an integral part of the container. The outcome is superb graphic quality and a "no-label" look.)

In addition to exceptional graphics, the container features an injection molded tamper-evident lid system which snaps tight to lock in freshness. The lid also has an in-mold label, so that regardless of how it is stored in the freezer case, the branding is still visible. (After filling, the lid, which is also made from Basell's Pro-fax EP390S, is snapped into place with a breakaway, tamper-evident tab positioned in a depression molded into the container lip. Instructions state, "To open, pull off safety seal.")

"Wells' Dairy has a patent pending on the design and functionality of the container.
The sturdier new package keeps its shape both in and out of the freezer. Its elliptical contour makes it easier to grip and creates less mess when scooping ice cream. So much so, that the company has trademarked the term no more "knucklemuck" because
consumers no longer have to worry about getting ice cream on their knuckles when scooping out of the container. The container is also microwaveable, reusable and 100% recyclable," Bartholomew said.

McKeeman added that the additional functional and/or marketing advantages of using
Pro-fax EP390S for frozen food processors who are currently using paper-based structures include: no seams which minimize leaks, less susceptibility to odor absorption and more shape alternatives.

Wells' is also using color coding on the labels and lid rim to coordinate its nationally-available varieties: premium (royal blue), premium light (light blue), no sugar added/reduced fat (red), fat-free/no sugar added (green) and frozen yogurt/fat free (purple).

"Food marketers want to create more value for their product at the point-of-purchase. These new polypropylene alternatives - coupled with an in-mold label - can help them achieve the differentiation they desire," said McKeeman. "This resin is viewed by marketers as being suitable to produce a variety of customer packaging applications for frozen dessert foods such as ice cream, toppings and mousse as well as fruit and meat products."

Additionally, Basell's clear Clyrell 7439XEP copolymer grade is also available in North America to producers desiring high clarity in freezer containers. Ideal applications for both resins include injection molded tubs, trays and cups ranging from 4-ounces to 1.75-quart (1.65 liter).

Founded in 1913, Wells' Dairy, Inc. is the largest family-owned and managed dairy processor in the United States. Today, ice cream aficionados throughout the United States, Mexico and Puerto Rico can indulge themselves and choose from nearly 500 tantalizingly tasty Blue Bunny ice cream flavors, frozen dairy desserts and delectable novelties.

Basell is the global leader in polyolefins technology, production and marketing. It is the largest producer of polypropylene and advanced polyolefin products, a leading supplier of polyethylene and catalysts, and a global leader in the development and licensing of polypropylene and polyethylene processes. Basell, together with its joint ventures, has manufacturing facilities around the world and sells products in more than 120 countries. Additional information about Basell is available at basell.com.

Media Contact: For more information contact Sophia Dilberakis,
SD Communications, +1 312 787 5800, sophiad@att.net.