Automated Guided Vehicle Systems
New FRED 2500 AGV Comes with Built-In Safety Features
Press Release Summary: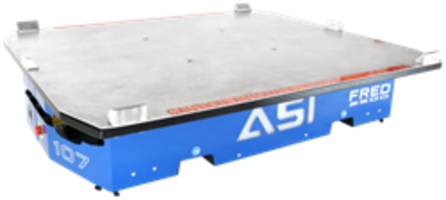 The FRED 2500 AGV from ASI drives can be set up in an hour and enables manufacturers to avoid capital for attracting skilled labor positions. The product can be neither connected to the internet nor get hacked.
---
Original Press Release:
ASI Drives Launches an AGV That Can Be Running in About an Hour
Meet FRED, Not Your Typical AGV
MONTGOMERYVILLE, PA. (PRWEB) NOVEMBER 28, 2018 - ASI Drives, a leading manufacturer of custom engineered gear drives since 1985, announced the launch of FRED 2500, an AGV that can be set up in about an hour. ASI recognized that: 
Manufacturers are struggling to hire and retain labor and that the shortage is only projected to get worse
Manufacturers need to free up capital to attract skilled labor positions
AGVs are an excellent complement to the manufacturing workforce and can easily handle non-skilled labor tasks
AGV setup, maintenance and ROI can be daunting
Based on these industry drivers, ASI Drives chose to create an AGV that was simple to set up, use and maintain for less than many other AGVs on the market.
"A recent report by the National Association of Manufacturers highlights the need for an AGV like FRED," says John Cross, President, ASI Drives. "73% of manufacturers are having trouble finding a quality workforce and 30% have turned down new business because of it. An AGV like FRED has a low cost of entry, easy set up and allows manufacturing teams to focus on their core capabilities."
FRED is simple to set up and doesn't require IT support. It is also not connected to the internet, so if WiFi goes down, FRED keeps running. For organizations that have security protocols, this also means FRED can't get hacked. Additionally, FRED has built in safety features and takes less space on the floor than a conveyor.
ASI Drives reviewed AGVs on the market and the current and projected issues facing manufacturers. Their research revealed that manufacturers want technology to be simple, safe, easy to get started and less expensive. John Cross shares the reason for the creation of FRED. "We wanted to make a high impact, high reward, low barrier to entry AGV. We are really pleased that we accomplished that with FRED."
To learn more about FRED or schedule a demo visit http://www.fred2500.com
About ASI Drives 
Founded in 1985, ASI Drives is a USA manufacturer of custom engineered gear drive solutions to the global medical mobility, floor care, material handling, warehouse automation and robotics industries. ASI's relentless focus on innovation in engineering and manufacturing has led to the creation of numerous industry leading products and solutions such as the MARK 400, some of the most compact and efficient gear drives available, brushless motor technology, advanced gear processing, lubrications and now, an AGV.
Learn more about ASI Drives at https://www.asidrives.com/
Contact Information
Joe Robinson
ASI Drives
https://www.asidrives.com/fred2500/
+1 215-512-5900
More from Cleaning Products & Equipment