New FormBalancer Press with Deep Draw Sheet Metal Forming
Press Release Summary: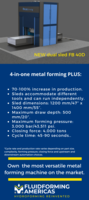 Features automatic roll feed capabilities with automatic die trimming
Converts precision sheet metal forming to powerful, high-pressure tube forming
Accommodate exact tolerances and utilize high forming pressures of 4,000 bar/60,000 psi
---
Original Press Release:
FluidForming Americas to Showcase FormBalancer Metal Forming Press and Tube Forming Capabilities at IMTS 2022 & FABTECH 2022
Hartsville, Tennessee – FluidForming Americas, a leading innovator of precision hydroforming, will be showcasing the capabilities of the 4-in-1 precision hydroforming machine, the FormBalancer, at IMTS 2022 on September 12-17 in Chicago, Booth 236333. The company will be at FABTECH 2022 on November 8-10 at the Georgia World Congress Center in Atlanta, Hall B, Booth B5852.
FluidForming Americas is announcing the release of the first dual-sled FormBalancer metal forming machine and showcasing precision, FluidFormed parts.
Visitors to Hall B, Booth B5852, will discover how the FluidForming hydroforming technology can increase precision, accuracy, and repeatability over existing hydroforming technologies — while lowering overall costs for low- to medium-production runs and improving time-to-market.
FluidForming machines, FormBalancers, are the only metal forming presses on the market that can perform sheet metal forming and tube forming functions. With a simple adaptation, any FormBalancer can be converted from precision sheet metal forming to powerful, high-pressure tube forming.
FormBalancers can accommodate exacting tolerances and utilize high forming pressures of 4,000 bar/60,000 psi — well over industry standards. The self-contained machine accommodates tight radii requirements of 0.2mm and forming depths of 0.8m to 3560mm. The machines also feature automatic roll feed capabilities with automatic die trimming.
FormBalancers have the following metal forming capabilities:
Deep draw sheet metal forming
Fluid cell sheet metal forming
Optional bladder-based hydroforming
Tube forming
FluidForming's FormBalancers are compact machines equipped with intuitive, easy-to-operate controls. Maintenance costs are minimal and compatibility with 3D printed tooling slashes tooling costs and dramatically improves time-to-market.
FluidForming Americas offers Finite Element Analysis (FEA), which minimizes trial and error and maximizes efficiency. This means that ideation to production can happen in days, rather than weeks — or even months. Finally, nested tooling capabilities facilitate undercuts, logos, and sharp angles while reducing production time and further minimizing tooling costs.
"We're excited to bring such an innovative technology and metal forming process to IMTS and FABTECH. FluidForming has the ability and capabilities to disrupt the manufacturing industry by bringing innovative solutions to the world of advanced manufacturing," said Paul Benny, CEO of FluidForming Americas. "FluidForming FormBalancer metal forming presses are compact, force contained machines that can help manufacturers achieve unprecedented levels of accuracy and repeatability. The new FB40D offers yet another way for FluidForming Americas to help metal forming shops lower costs and improve productivity."
Visit FFAmericas.com for more information.
About FluidForming Americas
FluidForming Americas is redefining the hydroforming industry with its unparalleled commitment to precision, quality, and repeatability. FluidForming is a Six Sigma metal forming solution for rapid prototyping and advanced manufacturing. Founded in Germany in 2000 and established in the United States 2014, FluidForming Americas services clients including Mercedes-Benz, BMW, Miele, Sub-Zero, and other industry-leading manufacturers. The FluidForming process and technology have profound implications for American manufacturing, manufacturing technologies, advanced manufacturing, rapid prototyping, and product design. FluidForming Americas is headquartered 50 miles northeast of Nashville, in Hartsville, Tennessee.
FluidForming Americas, Inc. is a member of the Precision Metal Forming Association and is AS9100 Rev D, ISO 9001:2015 certified.
For Production Information Contact:
Paul Benny
FluidForming Americas
CEO
+1-800-496-3545
info@ffamericas.com
For Media Questions and Assets Contact:
David Koonce
dkoonce@ffamericas.com
More from Materials