New FlowSmart PolyClamp EPDM Gaskets Retain Geometric Stability to Repeated SIP Cycles
Press Release Summary: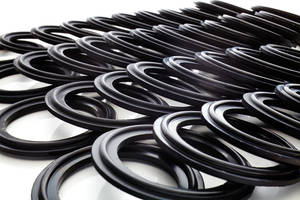 FlowSmart PolyClamp EPDM Gaskets are available in 10 sizes ranging from 1/2 in. to 8 in. unflanged and 8 flanged sizes ranging from 1 in. to 8 in. Units are formulated for biotechnology and pharmaceutical industries and are certified to Class VI and ASME-BPE standards. PolyClamp Gaskets avoid the issue of stickiness and can adhere to the ferrule faces.
---
Original Press Release:
FlowSmart PolyClamp EPDM Gaskets Offer SIP Stability
FlowSmart precision engineered PolyClamp EPDM gaskets retain their geometric stability even after repeat steam-in-place (SIP) cycles.
Formulated for SIP stability in the biotechnology and pharmaceutical industries, FlowSmart's innovative functionality ensures that the gaskets do not compromise critical high-purity processes and, importantly, do not trap bacteria – a trait common in other types of EPDM gaskets due to deformation.
By contrast, conventional EPDM gaskets lose dimensional stability and become susceptible to deformation during the SIP process. As a result, cleanability is compromised and the process becomes vulnerable to the entrapment of bacteria.
FlowSmart's PolyClamp gaskets also overcome the issue of stickiness, which can be problematic when using EPDM gaskets after a number of SIP cycles have been performed, as the gasket can adhere to the ferrule faces. In contrast, FlowSmart's EPDM material ensures clean, intact removal with no trace of the elastomer material finding its way into the process fluid.
Designed in accordance with ASME-BPE standards, PolyClamp EPDM gaskets are USP Class VI certified and are available in 10 size options from ½" to 8" unflanged, and in eight flanged size options from 1" to 8".
A perfect match with Watson-Marlow's ASEPCO Weirless Radial diaphragm™ valves, all FlowSmart products are backed by the extensive global sales and customer support network.
www.wmftg.com
Watson-Marlow Fluid Technology Group (WMFTG) is the world leader in niche peristaltic pumps and associated fluid path technologies. Founded on nearly 60 years of supplying engineering and process expertise and with over one million pumps installed worldwide, our pumps are tried, tested and proven to deliver.
WMFTG is a wholly owned subsidiary of Spirax-Sarco Engineering plc (LSE: SPX), a global organisation employing approximately 4,800 people worldwide. Watson-Marlow Fluid Technology Group comprises ten established brands, each with their own area of expertise, but together offering our customers an unrivalled breadth of solutions for their pumping applications:
Watson-Marlow Pumps: peristaltic tube pumps for biopharm and process industries
Watson-Marlow Tubing: precision tubing for pumping and other purposes, in a range of materials
Bredel: high flow, heavy duty hose pumps
Alitea: unique peristaltic solutions for OEM customers
Flexicon: aseptic filling and capping systems
MasoSine: gentle sinusoidal pumps for food, chemical and cosmetics applications
BioPure: advanced single-use tubing connector systems
ASEPCO: aseptic valves for the biopharmaceutical industry
FlowSmart: high purity sanitary gaskets, silicone transfer tubing and reinforced silicone hoses for the biopharmaceutical industry
Aflex Hose: specialises in the design and manufacture of PTFE-lined flexible hoses
Watson-Marlow Fluid Technology Group is an international operation based in Falmouth, Cornwall, UK. Watson-Marlow Fluid |Technology Group has offices in Argentina, Australia, Austria, Belgium, Brazil, Chile, China, Canada, Denmark, France, Germany, Ireland, India, Indonesia, Italy, Japan, South Korea, Malaysia, Mexico, the Netherlands, New Zealand, Poland, Russia, Sharjah UAE, Singapore, South Africa, Sweden, Switzerland, Taiwan, Thailand, USA and Vietnam.
More from Packaging Products & Equipment