New Flex R-Series Mobile UC System Enables Users to Share Content Wirelessly from Any Device
Press Release Summary: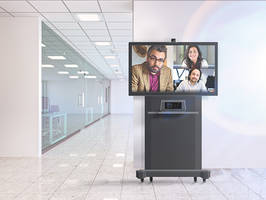 Features intelligent camera with 150° field of vision that autoframes participants, enabling social distancing without compromising experience
Offers 360° quad mic array with up to a 20' range and support for displays from 50 in. to 60 in.
Comes with retractable ethernet and power cables for easy connections
---
Original Press Release:
Crestron Flex R-Series Empowers Customers to Instantly Put Unified Communications Anywhere It's Needed
Breakthrough rapid deployment solution addresses customer needs to share knowledge and bring collaboration virtually anywhere in response to the COVID-19 workplace changes
Rockleigh, N.J. – June 5, 2020 — Crestron, a global leader in workplace technology, announced its newest addition to the company's award-winning line of Unified Communications (UC) conferencing technology, the Crestron Flex R-Series. A first-of-its-kind, rapid deployment solution, Crestron Flex R-Series is a mobile UC system that brings collaboration where it's needed most, closing the distance between remote teams wherever they may be.
In today's climate, rooms are radically changing with an exponential demand for meetings that utilize video conferencing. Crestron has remained one step ahead by developing a mobile UC solution that enables customers to quickly and easily share information and work collaboratively. Crestron Flex R-Series offers unprecedented versatility by eliminating the costly, time-consuming installation process, allowing organizations to better anticipate the evolving needs of the places people meet.
"The need to share knowledge and work collaboratively is more critical than ever," said Andrew Gross, Director of Sales, UC Enterprise. "Our Crestron Flex R-Series delivers a rapid deployment, social distancing-friendly solution that creates a productive workplace and can be utilized anywhere, quickly and efficiently. Beyond deployment, Crestron's suite of management tools ensure customers can manage more endpoints with the same resources, helping companies tackle the need to rapidly expand their video conferencing footprint."
Collaboration in just a few simple steps
Crestron Flex R-Series features optional dual-mode technology based on the revolutionary Crestron Flex MX architecture. It enables organizations to run native Microsoft Teams® or Zoom Rooms™ software, or seamlessly switch to bring-your-own-device (BYOD) mode for all other conferencing software. The turnkey system can be installed in minutes and can easily be moved, supporting people wherever they meet – whether in cafeterias, classrooms, manufacturing floors, or in open spaces.
Featuring exceptional audio and video quality to ensure everyone is seen and every word is heard; Crestron Flex R-Series includes the following features and options: 
Intelligent camera with 150° field of vision that autoframes participants, enabling social distancing without compromising experience
360° quad mic array with up to a 20' range
Support for displays from 50" to 60"
Retractable Ethernet and power cables for easy connections
Support for Crestron AirMedia® Wireless Presentation System, enabling users to share content wirelessly from any device 
"With worldwide video conferencing at an all-time high as a result of the COVID-19 pandemic, Crestron has taken swift measures to create an easy-to-use solution that brings remote collaboration to every space", said Joseph Sarrasin, Director of Strategy, Unified Communications at Crestron. "Our new Crestron Flex R-Series is reshaping the workplace as we know it, offering customers the ability to organize meetings on demand regardless of location or application."
Pioneering a new level of flexibility
Through the launch of Crestron Flex R-Series, Crestron has pioneered a new level of flexibility to create meetings on demand in any space, at any time. Crestron Flex R-Series is designed for an array of enterprise corporations and businesses globally, as well as in hospitals, medical centers, universities, and manufacturing facilities, among other organizations where social distancing measures are of utmost importance.
Crestron Flex R-Series availability
Crestron Flex R-Series is available now and features seven different models customers can choose from to suit their collaboration needs. For more information and to learn about options and pricing, please visit: crestron.com/Products/Featured-Solutions/Crestron-Flex-R-Series.About CrestronAt Crestron we build technology for every way people work, everywhere in the world – from desktop to boardrooms, offices to multi-nationals. Technology that adapts to what you have and prepares you for what you'll need. Platforms, devices, and systems designed to improve communication and collaboration. All managed by a cloud-based system for easy deployment, monitoring and upgrading. At Crestron we create faster, better, simpler solutions so people can work faster, better, and more productively.
Our products are backed by more than 90 fully staffed offices that provide 24 x 7 x 365 sales, technical, and training support across the globe. In addition to our World Headquarters in Rockleigh, New Jersey, Crestron has sales and support offices throughout the U.S., Canada, Europe, Asia, Latin America, and Australia. Discover Crestron by visiting www.crestron.com.