New Flammable Material Safety Cabinets from Crescent Jobox Feature New Safety Standards
Press Release Summary: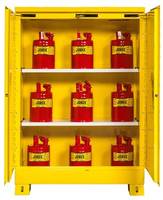 The new Crescent Jobox by Apex Tool Group flammable material safety cabinets feature Hi-Viz safety information labels, and anti-tip bolster technology for stability. The cabinets are UL tested with external temperatures from 1200 to 1500 degrees, while the internal temperature remained at 250 degrees, keeping stored materials cooler.
---
Original Press Release:
Crescent Jobox® Safety Cabinets Set New Standards for Flammable Material Storage
With UL Certification, Crescent JOBOX® Flammable Storage Cabinets provide next-level safety with industry-leading heat resistance
SPARKS, Md., Oct. 29, 2018 /PRNewswire/ -- Storing flammable or combustible materials is entirely about safety, and in the worst-case scenarios, it's critical to have the best protection available. The new Crescent JOBOX® Flammable Storage Cabinets—developed by Apex Tool Group—are UL certified after not just passing heat tests but surpassing the standards for certification.
In burn tests with exterior temperatures between 1,250 and 1,500 degrees, any cabinet looking for certification has to hold an internal temperature of under 325 degrees for 10 minutes. The new Crescent JOBOX cabinet maxed out at only 250 degrees. What this means is that, in the event of a disaster or potential disaster where flammable materials are vulnerable to explosion, the Crescent JOBOX Flammable Storage Cabinets stay cooler longer to allow people to address and extinguish a potential threat or evacuate as needed.
"Protecting people, products and property was the guiding force behind us as we developed these new safety cabinets," said product manager Sam Samsel. "We looked at the various ways that safety cabinets can fail and developed innovative solutions to those issues. The result is a flammable storage cabinet that's unmatched."
EZ Level™ bolster makes leveling simple and safe
Hi-Viz Safety Information Labels provide a reminder and reference for users to follow proper safety and usage practices
Anti-tip feature on the EZ-Level™ bolster extends the base foot print beyond the width of the cabinet for improved stability
The cabinets will be available in December 2018 in five sizes and three colors for the specific contents. For more information, go to www.jobox.com.
About Crescent®
Crescent is a premier brand from Apex Tool Group, one of the largest hand tool manufacturers in the world. The product line includes Crescent® adjustable wrenches, mechanics hand tools and sets, Crescent Wiss® snips, scissors, shears, knives and trade tools, Crescent Lufkin® measuring tapes, rules, and wheels, Crescent Nicholson® files and saws, Crescent H.K. Porter® heavy‑duty cutting products and Crescent JOBOX® on-site, flammable liquid and truck storage products. Visit www.crescenttool.com.
About Apex Tool Group
Apex Tool Group, LLC, headquartered in Sparks, Maryland, is one of the largest worldwide producers of industrial hand and power tools, tool storage, drill chucks, chain and electronic soldering products. Apex serves a multitude of global markets, including automotive, aerospace, electronics, energy, hardware, industrial, and consumer retail. Visit www.apextoolgroup.com.
SOURCE Apex Tool Group
More from Transportation Industry Products