New Fasteners Designed for Demanding Assembly Applications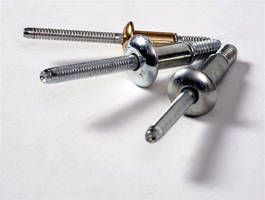 WACO, TX - Alcoa Fastening Systems' line of Huck-brand fasteners includes a wide range of structural blind rivets and two-piece lockbolts for heavy-duty assembly applications.

Included in the Huck line of fasteners is the unique HuckLok(TM) structural blind rivet, available in diameters ranging from 3/16" to 1/4". This rivet provides a unique combination of hole-filling capacity, gap pullout, and high fatigue strength.

The Huck brand also includes a broad line of swaged-installation, pintailess lockbolts, including the industry standard HuckSpin, available in 1/2" to 3/4".

Huck also offers air-driven tooling for repair and production, as well as hydraulic tooling for high-volume production applications.

Huck Fasteners, a division of Alcoa Fastening Systems, is a leading producer of fasteners and installation tools designed for a broad range of manufacturing applications. For more information, visit www.huck.com.

More from Agricultural & Farming Products