New Farpointe Bluetooth Reader and Mobile Credentials are Based on MIFARE DESFire EV1 Technology
Press Release Summary: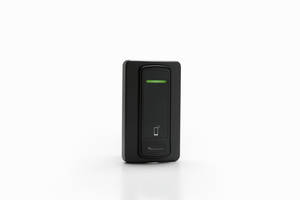 DMPs Farpointe CSR-35 Conekt Bluetooth Reader and CMC-2 Smartphone Mobile Access Credentials are the contactless electronic access control solutions that are designed for businesses and work areas. The units can be installed on a metal door, window frame or flat surface at entry points. The MIFARE DESFire EV1 technology provides high security encryption technology standards.
---
Original Press Release:
DMP Introduces Farpointe Bluetooth Reader & Mobile Credentials
Giving Customers the Convenience of Access Control With Their Smartphones
LAS VEGAS — Sept. 23, 2018 — Instead of keeping track of a key fob or card, some people may prefer using their smartphones to get into their businesses or secure work areas. Digital Monitoring Products (DMP) can now give those customers the convenience they prefer.
Farpointe Data's new CSR-35 Conekt Bluetooth Reader and CMC-2 Smartphone Mobile Access Credentials are the newest members of DMP's expanded line of high-security access control products. Together, they allow iPhone or Android smartphones to function as a contactless electronic access control credential.
The new readers can be installed on a metal door, window frame, or flat surface at any entry point, and are also compatible with DMP's DE2 smartcard credential. Like the DE2, the new CMC-2 mobile credential is based on MIFARE DESFire EV1 technology, offering an even higher security encryption technology standard than traditional credentials.
How It All Works
Like any other app they're using, authorized users would just need to download and install the required app, called Conekt Wallet, which is available on the Apple App or Google Play Stores. Once the app is installed and the virtual credentials are activated, users can present their phones to the reader — this establishes a secure Bluetooth connection and an encrypted transmission to the user's smartphone.
The new Farpointe Data CSR-35 Conekt Bluetooth Reader and Bluetooth mobile credentials are available now. Click here for a FAQ outlining the ordering and activation process. Click here for the Spec Sheet.
About Farpointe Data: Since 2003, Farpointe Data, a DORMA Group company, has become the global partner of choice for premium RFID solutions, including proximity, smart and long-range solutions, for electronic access control professionals around the world. These security specialists have come to count on Farpointe's exacting designs, superior manufacturing, competitive prices, and excellent performance to enhance their access control systems. For more information, visit FarpointeData.com.
About DMP: DMP is a privately held, independent manufacturer of innovative intrusion, fire, access control, network and cellular communication products designed, engineered, and manufactured in Springfield, Mo., using U.S. and global components. DMP is the recognized leader in alarm communication over data networks, with products that are available through professional electronic security companies. For more information, contact Mark Hillenburg at MHillenburg@DMP.com or visit DMP.com.
2500 N. Partnership,
Springfield, MO 65803
Contact: Mark Hillenburg
800.641.4282
More from Communication Systems & Equipment