New Face Shields for Health Care Workers
Press Release Summary: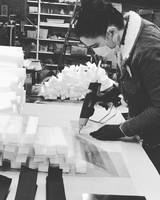 Available in thick and clear cleanable plastic
Suitable for doctors and first responders while fighting the Covid19 pandemic
---
Original Press Release:
Go Fund Me Launched for Highest Quality Face Shields for First Responders
April 10, 2020, Los Angeles -- Los Angeles-based woodworking company, Studio E&R and its accessory division, The Wooden Palate, have started a Go Fund Me to raise funds for its production and donation of high-quality face shields for health care workers and first responders fighting the Covid19 pandemic. The husband and wife team felt compelled to contribute knowing they had the production resources in their LA factory and given they're in high-end construction, they are allowed to continue working. Within days of pivoting their business to manufacturing shields, they received thousands of orders from doctors and health care workers around the country and now need help in funding production.
"We are one of the lucky businesses able to remain a running business in Los Angeles, so we wanted to contribute as much as possible and have pivoted part of our manufacturing and several of our staff to producing face shields," said co-owner Ryan Silverman. "We have so many friends connected to the heroes on the front lines that we realized we had to find a way to contribute and give back."
The company is sourcing the best quality plastic shields in thick, clear cleanable plastic and incurring the cost of production and shipping. The Go Fund Me will help offset the costs of production and donating the shields to front line heroes. Once the goal of $10,000 is met, the additional funds raised will go to first responder's relief efforts.
"When we reached out to the medical communities, we were immediately buried in requests....more like emotional pleas. In reading the emails requesting shields from these doctors and nurses, the emotion was palpable, and it made us emotional...and motivated to help...now. We are laser focused on getting these life-saving supplies to the front lines," said co-founder Eileen O'Dea.
About: Studio E&R
Studio E&R is a full-service, whole-home woodworking fabrication and installation company as well as a full line furniture manufacturer, designing and making unique, one-of-a-kind tables, benches, shelving and beds from all solid wood materials.
From the taking down of a tree whose time has come, and milling every inch of it to be used in all parts of the company, to sourcing the most eco-friendly options for high-end in-home solid wood needs, Studio E&R is known as the foremost expert on all "real wood" needs. The company was named the Top Wood Expert in Los Angeles by Angeleno Magazine and was awarded the Top Certified Craftsmen by the most expensive wood flooring company in the world, Dinesen Wide Plank. Studio E&R is often called upon to consult on trees and installations nationwide by designers, architects and home owners.
The Wooden Palate
The Wooden Palate was born of the belief that every kitchen and home needs more functional art and that every "chef" should love the piece on which they serve their creations. The company is committed to making wood products that last, using all-natural stains and finishes. Founded by Ryan Silverman, known as the woodworker to the stars, and his wife Eileen O'Dea, a chef and yogi turned woodworker, The Wooden Palate hand makes heirloom pieces, designed to be handed down and last for generations. The collection includes a wide array of products focused on all kitchen needs, from the highest quality end-grain cutting boards used by the likes of Thomas Keller and Jean George, to serving boards used by many of the best restaurants in the United States, as well as barware, bowls, plates, rolling pins, salt cellars, trays and other pieces. Many products are crafted from locally fallen trees as well as sustainably grown North American White Oak and Black Walnut from the Ohio River Valley, and any workable reclaimed wood they discover, ensuring it is pure from chemicals.
The company has collaborated with numerous well-known brands such as Goop, EyeSwoon Fred Segal, and numerous chef-owned restaurants such as Chef Thomas Keller's Finesse and The French Laundry and The Tak Room, Chef Casey Lane's restaurants The Tasting Kitchen and La Peer, Chef Aitor Zabala and Chef Jose Andres' restaurant Somni and many more.
Contact:
Staci Levine
SLPR
310-994-8437
Staci@slpr.co
More from Software