New EZ Glider Socks from Maine-Lee Can Stay Fresh for up to 10 Days of Use
Press Release Summary: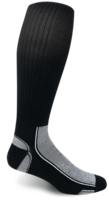 Made from proprietary multidimensional fibers for everyday life that are durable and comfortable for the consumer
Features include moisture wicking, odor-reduction, form-fitting and lightweight
Used for either work/sports/ casual to meet those activities
---
Original Press Release:
Maine-Lee Technology Group Launches Second Eco-Friendly Advanced-Design Textile Product
Wells, Maine -  Maine-Lee Technology Group, LLC has launched its second high-tech, advanced Eco-Friendly  textile product – a unisex, all-terrain, all-conditions 3 in 1 unisex sock that stays fresh for up to 10 days of use.
EZ Glider® unisex 3 in 1 socks are made from a proprietary "advanced multidimensional" fiber (s) used to create textiles for products for everyday life that are more durable and comfortable for the consumer. The unique textile design, coupled with an all-natural microbial, results in eco-friendly products that require less frequent washing. Earlier in Q3 MLTG launched its Fresh Rest™ bedding line, which requires washing just once a month, with normal residential uses.
EZ Glider's unisex "three-in-one" (work/ sports / casual + recreation) socks also include these consumer values and features:
State-of-the-art moisture wicking, will keep your feet drier
Odor-reduction, due to an all-natural organic antimicrobial. The socks can be worn for 10 days before requiring washing
EZ Glide tech for easy in and easy out of any footwear, a great boot sock
Form-fitting, seamless construction, to reduce irritation and blistering
A line of graduated compression socks that reduce leg fatigue for people on their feet all day
Thermoregulated features that will keep your feet cool or warm depending on the climate
Lightweight and padded
The consumer can wear one pair of these socks for either work/sports/ casual and not have to buy three pairs of other types of socks to meet those activities.
"I believe our brand of  EZ Glider® unisex 3 in 1 socks is exceptional," says Bill Kimball, SR VP of Operations at MLTG. "Our sock addresses every issue consumers might experience with footwear."
EZ Glider socks are available for purchase at the e-commerce website www.ezglidersocks.com.
About Maine-Lee Technology Group:
In addition to the of EZ Glider® unisex 3 in 1 socks, Maine-Lee's new bedding products line The Fresh Rest ™ has many of the same IP features of EZ Glider® socks, including the advanced multidimensional textile weave design is at the heart of both products.  Besides superior moisture-wicking, the bedding also regulates body temperature. Those features, along with the natural antimicrobial, keep bedding fresh for up to a month, on average. The unique, high-tech weave also results in sheets and pillowcases that are extremely soft. The line is available at the e-commerce site www.freshrestbedding.com. Kimball said in the near future Fresh Rest will include a line of sheets sized for over-the-road trucker cabs, pleasure boats, and RVs – places where long-lasting freshness is especially appreciated.
MLTG, LLC's IP is designed and engineered here in Maine. Our current brand products are "Made for the USA". Our brand products continue to demonstrate to the markets and the consumers our advanced textile (s) IP is very agile  and actually works. MLTG, LLC's antimicrobial features in our textiles are all natural organic, "without" any chemicals, heavy metals, or waxes. Our textiles products will not leach onto the skin and very safe for your entire family.
Maine-Lee will be introducing more products, including and not limited to surgical protective sleeves & gowns, diabetic socks, amputee and shrinker socks, heated socks, gloves, mittens and outerwear and more.
MLTG, LLC also works with partners interested in licensing, private label or co-branding its technology.  Please visit www.mltgllc.com  for more information.
More from Non-Industrial Products