New Extenders Uses an Elastic Band Instead of Metallic One
Press Release Summary: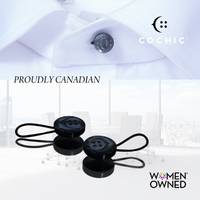 Can be used as cuff expanders and are more durable
Non-metallic band doesn't pinch the neck or destroy shirts in a wash
Buttons are made of polyester resin and more designs are available
---
Original Press Release:
COCHIC Introduces a Blend of Innovation and Fashion with Its Comfort Extenders
The Montreal-based fashion brand has invented metallic-free extenders that revolutionize the industry.
It has always been assumed that fashion and comfort don't always go together. But recently there has been a rise in brands that plan to change this perception, and one such example is COCHIC.
All great inventions begin with the identification of a problem. Patrizia Angela Casubolo, the founder, realized that a lot of people, especially men, found buttoning the collar neck of their shirts uncomfortable. And so, COCHIC collar extenders were born. Their functionality doesn't stop at collars. These extenders can be used as cuff expanders as well. What sets them apart from their competitors is that instead of using a metallic band, COCHIC uses an elastic one. This invention has been patented worldwide. As a result, these extenders are more durable and superior. The non-metallic band doesn't pinch the neck or destroy shirts in a wash. But utility doesn't always have to be boring and plain. The buttons are made of polyester resin of the highest quality and there are more designs than one can imagine. What is exciting is that these buttons can be custom-made as per the buyer's wishes.
"When you buy a COCHIC product, you buy our passion", says Patrizia. "I always aspire to create something that is useful and at the same time reflect the values I believe in."
Over time, COCHIC has added accessories such as pant extenders, patented ties with a stay-on system, cufflinks, and foulards to their collection. Recently, they ventured into apparel and introduced dress shirts for men and women. It can be purchased, as the whole collection via the website Cochic.com
About the company:
COCHIC is a certified woman-owned company founded in 2010 by Patrizia Angela Casubolo. Its innovative patented products are designed to provide men and women with greater flexibility and comfort, adding the perfect touch of elegance and professionalism to any ensemble. COCHIC's product line is available online as well as at all major stores and hotels in Canada and the United States.
To know more about the brand, visit www.cochic.com
Facebook: https://www.facebook.com/www.cochic
Instagram: https://www.instagram.com/cochicstyle/
Linkedin: https://www.linkedin.com/company/cochicstyle/
More from Laboratory and Research Supplies and Equipment